ProtectDefenders.eu are deeply concerned by the progressively hostile environment for human rights defenders in Cambodia, following numerous incidents of repression and criminalisation of peaceful human rights activists. The Cambodian authorities have increasingly been targeting and silencing those who criticise them, with labour rights defenders and unions being targeted in particular.
Among them, on 31 July 2020, human rights defender Rong Chhun was arrested at his home in Phnom Penh, which is thought to be in relation to a statement he made on the demarcation of the border between Cambodia and Vietnam that has stripped several farmers of their land. The following day, on 1 August 2020, the Phnom Penh municipal court charged the defender with "incitement to commit a felony", and he is currently being detained. Rong Chhun is the President of the independent Cambodian Confederation of Unions and a member of the Cambodia Watchdog Council. He was the former president of the Cambodian Independent Teacher's Association (CITA), an organisation that promotes solidarity between the private and public sector teachers, irrespective of colour, race, sex, religion or political belief. He has been a vocal human rights defender and has long raised concerns about the plight of farmer's and worker's rights. This is not the first time Rong Chhun has been arrested. The defender has been a target of judicial harassment since 2015 for his activism and work in defence of human rights.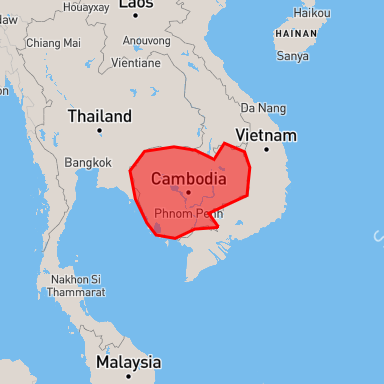 Furthermore, on 13 August 2020, human rights defender Hun Vannak and woman human rights defender Chhoeun Daravy were arrested for their participation in a peaceful protest in Phnom Penh. The defenders were part of a larger group of protesters who had gathered outside the municipal court to demand the release of Rong Chhun. Hun Vannak and Chhoeun Daravy are currently detained at the Phonom Penh Correctional Center (CC), in CC1 and CC2 respectively. Hun Vannak is an environmental rights defender and a former member of Mother Nature Cambodia, a grass-roots organisation opposing land-grabbing and defending environmental rights. In early 2020, the defender founded the youth group Khmer Thavarak that advocates against social injustices and environment issues. Chhoeun Daravy is a woman human rights defender and a member of Khmer Thavarak. As one of the first members of the organisation, she has been heavily involved in drawing attention to several human rights issues in the region, especially those concerning the environment. She regularly livestreams events and protests organised by Khmer Thavarak and other defenders on social media, reaching large audiences.
On 6 September 2020, Phnom Penh police arrested human rights defender and Buddhist monk, Koet Saray over his plans to participate in a peaceful assembly that was to take place on 7 September 2020 at the Freedom Park in Phnom Penh. The demonstration was to call for the release of imprisoned human rights defender Rong Chhun, and to call for the release of imprisoned members of Khmer Thavark, Hun Vannak and Chhoeun Daravy. Koet Saray was presented before the Phnom Penh court on the same day, where he was charged with "incitement to commit a felony or cause social unrest".
Also on the 6 September, Mean Prommony, a human rights defender and the vice-president of the Khmer Student Intelligent League Association (KSILA)was arrested by police in Phnom Penh, ahead of his planned participation in a peaceful assembly at Freedom Park. The group works on mobilising and building capacity, to increase students' participation in social development, good government, and sustainable use of natural resources. He has been an active voice, especially amongst youth in the country, raising awareness on social injustices and human rights issues.The following day, two other members of Khmer Thavarak were arrested by Phnom Penh police. Human rights defender Tha Lavy was arrested while alighting from a tuk-tuk at the Freedom Park, while he was on his way to the demonstration. Woman Human rights defender, Eng Malai was arrested on the same evening, after leaving the Office of the United Nations High Commissioner for Human Rights in Phnom Penh.
RSF ranks Cambodia 144th in the World Press Freedom Index, as Cambodians now only have access to news provided by major media groups directly linked to Prime Minister Hun Sen, such as the online news agency Fresh News, which pumps out pro-government propaganda. Only the Voice of Democracy network, whose radio station was closed, tries to resist on social media. Journalists who still dare to do investigative reporting on subjects that are not to the regime's liking, such as prostitution of minors, are imprisoned. Defamation and lèse-majesté laws are widely used to circumvent provisions envisaged in article 41 of the constitution, which in theory guarantees every Cambodian citizen freedom of expression, press and publication.