Human rights defenders (HRDs) working on issues related to sexual orientation, gender identity and expression (SOGIE) have long operated in a threatening environment in Indonesia. Today they are facing more risks than they have in decades, according to 25 HRDs interviewed by Front Line Defenders in July 2017.
The report, "Attacks on LGBT Rights Defenders Escalating in Indonesia", includes testimonies from dozens of human rights defenders who report that following a crackdown on LGBT rights in 2016 and amidst ongoing violent raids of LGBT gatherings, threats against community leaders are increasingly frequent, personal, and violent.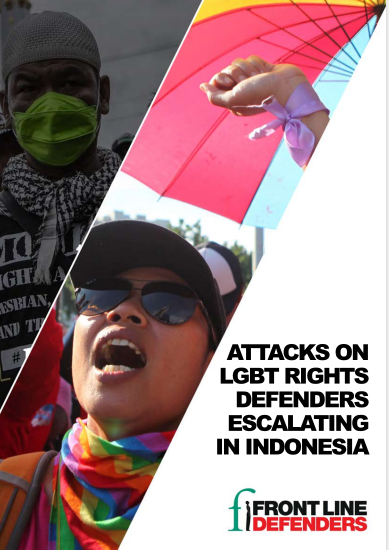 "Our investigation illustrates that the government's own crackdown on LGBT rights in 2016 emboldened those who want to terrorize human rights defenders into silence," said Front Line Defenders Executive Director Andrew Anderson in Dublin. "Ongoing police raids and a failure to respond to attacks against HRDs send the message that violence against peaceful activists is acceptable in Indonesia."
Front Line Defenders conducted an investigative mission in July 2017 and met at-risk human rights defenders in four provinces: Aceh, Makassar, Yogyakarta and Jakarta.1 Front Line Defenders interviewed more than a dozen LGBT activists in Aceh, the only province in Indonesia governed by Islamic Sharia law; all reported violent raids and weekly sweeps conducted on Fridays by government-sanctioned religious police.
Key Report Findings
23 out of 25 HRDs interviewed received multiple death threats since the start of 2016. These included threats received online (sometimes by the hundreds on blog posts, Facebook, etc) but also included extremist groups attacking LGBT events and verbally threatening to hang them.
Social media accounts known to be affiliated with Islamic extremist groups increasingly post photos or videos of activists with public calls to attack them.
HRDs noted a marked increase in the use of religious terminology during threatening phone calls or online attacks, such as "your blood is halal," meaning that to kill them is religiously sanctioned in Islam.
At least 3 rights groups were forced to move their offices in the previous two years following a raid or physical intimidation. The raids and threats were perpetrated by extremist groups, local religious police, and state police. In several cases, state police ignored activists' requests for protection when an extremist group announced in advance its intention to attack an event.
Defamation in the media and violent rhetoric from high-level government officials (such as the Minister of Defence, Minister of Higher Education and Chief of Police of West Java) is a key cause of decreased activism, who report complaints from family and friends about endangering them.
For transgender sex workers who also work to develop protection strategies for their community, food and housing insecurity is reported as the foremost risk. Pervasive homelessness, poverty and food insecurity mean that the need to make money at night limits the number of hours they can devote to protection work during the same hours.
Sex worker rights defenders in Yogyakarta cited increased targeting by police "at night" (while working as sex workers) due to their visibility as activists "during the day."