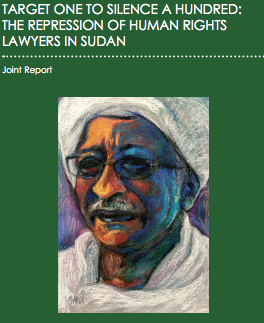 Since the beginning of 2018, more than 20 human rights lawyers have been victim of arbitrary detention in Sudan. Attacks and intimidation against them aim both at hindering their work in the denunciation of human rights abuses, and at dissuading them from providing legal support to victims, including other HRDs. In a joint report published on 31 October 2018, the Observatory for the Protection of Human Rights Defenders (OMCT-FIDH partnership) and ACJPS analyse the different types of violations against human rights lawyers in Sudan and their root causes.
Only in the first half of 2018, 23 lawyers have been victim of arbitrary detention in Sudan, either for their participation in peaceful protests or for the legal support they provided to other human rights defenders victim of arbitrary arrest and detention. The joint Observatory and ACJPS report published today shows how the absolute powers and immunity enjoyed by the National Intelligence and Security Service (NISS) allow them to arbitrarily arrest human rights lawyers, seize their passports and carry out office raids to intimidate them and their clients. In the absence of effective legal remedies and judicial scrutiny, all violations against human rights lawyers remain unpunished.
Human rights lawyers are particularly targeted as they take up the defence of victims of government repression against the protests that spread in the country in the aftermath of the 2011 Arab revolutions, and to denounce the austerity measures regularly adopted by the government over the past seven years. By targeting human rights lawyers, the Sudanese authorities indirectly deprive all HRDs subject to extrajudicial killings, judicial harassment and arbitrary detention of their right to legal assistance.
Intimidation and repression against human rights defenders in Sudan intensified in the past months in reaction to nation-wide demonstrations that began on January 6, 2018, set off by the announcement of the 2018 national budget forecast and the lifting of subsidies and measures. Sudanese authorities have carried out a campaign of massive arrests and detentions, including against human rights defenders, political party leaders, journalists, students and other individuals for their involvement in the protests. The police and the NISS have used excessive force to disperse and arrest protesters, including tear gas and beatings with sticks and water hose pipes.