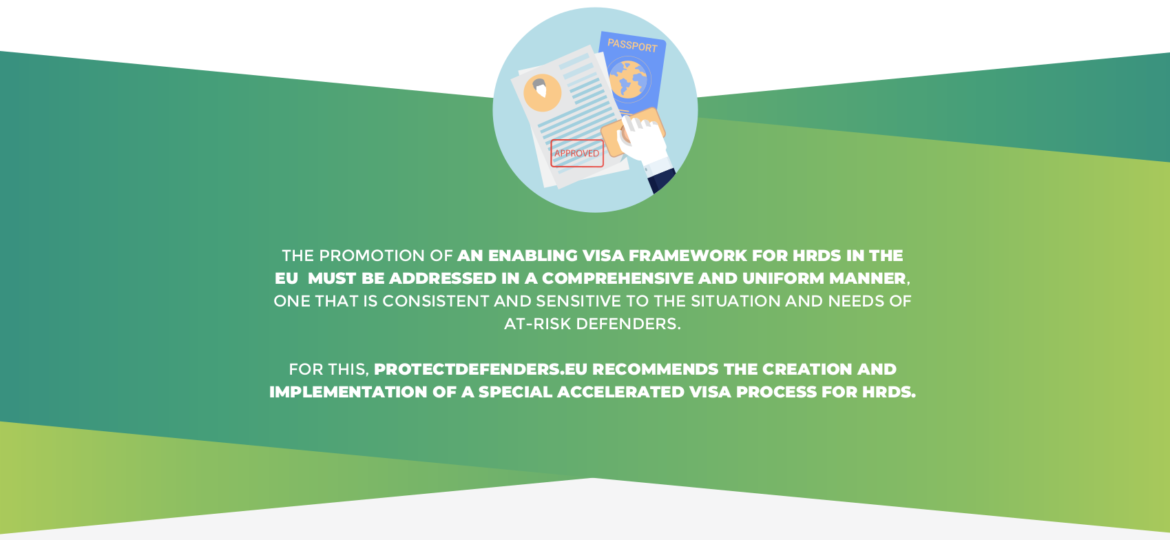 Brussels, 7 September 2022.- In a joint statement published today at the initiative of ProtectDefenders.eu, 50 international civil society organisations are calling on all European Union institutions and the EU Member States to return on their political mandate in favor of human rights and human rights defenders, and lead on the implementation of concrete initiatives, good practices, and policy changes to ensure that at-risk human rights defenders can access European Union visas with guarantees, security, and predictability.
In this joint statement, the signatory organisations reiterate that human rights defenders have the right to carry out their legitimate work safely and to access support and protection when they are at risk, especially those who operate in the most difficult contexts. Nonetheless, human rights defenders worldwide often carry out their work at great personal risk, and increasingly face killings, attacks, threats, and acts of intimidation because of their peaceful activities, in addition to being subjected to repression, restrictive legislation, and judicial harassment.
According to the international human rights defenders community, the possibility of accessing a visa to a European territory emerges as an essential security and protection tool for these at-risk human rights defenders to carry out their activities in their countries in a more secure and protected way, and visas and multiple-entry visas are widely regarded as a vital element of a comprehensive security strategy.
However, as the signatory organisations deplore, the EU and its member states' stated support for human rights defenders is not consistent with the current EU visa policies and practices, as human rights defenders at risk around the world lack consistent procedures to effectively and predictably access visas for the EU territory. In fact, the community in support of human rights defenders has systematically noted and documented the numerous and diverse obstacles for defenders to access EU visas, preventing them from accessing safe haven when necessary, as well as from engaging in opportunities for rest and respite, temporary relocation programmes, or international advocacy, mobilisation, or networking activities in the EU territory. This lack of reliable, predictable, and coherent access for human rights defenders to EU visas is reportedly aggravating the risk, isolation, and vulnerability they face as a result of their work – which is exacerbated for those defenders belonging to particularly threatened groups, such as women human rights defenders, LGBTI rights defenders, or indigenous rights defenders.
In this communication, the group of organisations – which includes a wide range of international and regional actors working in favor of human rights throughout the world, ultimately calls for the creation and implementation of a special, accelerated visa process for HRDs in the EU, guaranteeing predictability, consistency, and protection for those who are most at-risk HRDs.
This special visa should be a multiple-entry, long-term visa that enables HRDs to better manage their protection needs – including sometimes not using the visa but keeping it in reserve, in a way that constitutes a security resource that enables the HRD to continue in their work. The visa process should make the application procedures easier, user-friendly, and available in the local languages. Besides, the financial requirements should be alleviated, the visa application processing fees should be waived for at-risk HRDs, and the visa processing time should be shorter, especially for HRDs at risk, and allow for urgent procedures.
Under this proposed accelerated process, the embassies of EU countries should be the main stakeholder to receive and process visa applications, and a special contact for HRD visa processes should be created so as not to rely on a third-party agency for HRD visas. Visa contacts dealing with visas for HRDs should be gender-sensitive, aware of confidentiality needs, and know about HRDs' needs and risks, and local and international NGOs identified as partners should be able to refer cases to the embassies and confirm their status as a defender, helping to speed up the visa processing. In the Member States, national human rights institutions and civil society should be consulted and involved in implementing the new visa application process for Human Rights Defenders.
In addition, the signatories of the statement published today are calling on the EU stakeholders to include instructions in the EU Visa Handbook on granting facilitations to HRDs and their family members, work towards amending the legal instruments on visas, particularly the Visa Code, and introduce amendments to the Temporary Protection Directive that allow temporary protection status in the EU to be granted to defenders at risk.
Click to read and download the joint statement
Visit the dedicated webpage for the #Visa4HRD initiative
More information:

This initiative is led by the ProtectDefenders.eu Consortium:
Asian Forum for Human Rights and Development (FORUM-ASIA)
DefendDefenders – East and Horn of Africa Human Rights Defenders project
Euro-Mediterranean Foundation of Support to Human Rights Defenders (EMHRF)
ESCR-Net
Front Line Defenders
ILGA World
Peace Brigades International
Protection International
Reporters Without Borders
The International Federation for Human Rights (FIDH)
The World Organisation Against Torture (OMCT)
Urgent Action Fund for Women's Human Rights (UAF)
With the support of:
AfricanDefenders
Agir ensemble pour les droits humains
Amnesty International
Araminta
Artist Protection Fund
Artists at Risk (AR)
Asociación Zehar-Errefuxiatuekin
Association Francophone des Commissions Nationales de promotion et de protection des Droits de l'Homme – AFCNDH
Brot für die Welt
Cairo Institute for Human Rights Studies
Center for Applied Human Rights (CAHR), University of York
Civil Rights Defenders
Comissió Catalana d'Ajuda al Refugiat (CCAR)
Committee to Protect Journalists
Defenders in Dordrecht (DiD)
Docip (Indigenous Peoples' Center for Documentation, Research, and Information),
European Center for Press and Media Freedom (ECPMF)
Free Press Unlimited (FPU)
Freedom House
Gulf Centre for Human Rights (GCHR)
Hamburg Foundation for politically persecuted persons
Heinrich Böll Stiftung
Human Rights House Foundation (HRHF)
Human Rights House Tbilisi
Humanists International
Iniciativa Mesoamericana de Mujeres Defensoras de Derechos Humanos
International Arts Rights Advisors (IARA)
International Dalit Solidarity Network (IDSN)
International Partnership for Human Rights (IPHR)
International Service for Human Rights (ISHR)
Justice & Peace
Mundubat
Open Society Foundations (OSF)
PEN America's Artists at Risk Connection (ARC)
Pen International
Plateforme Droits de l'Homme – PDH
Réseau de Défenseurs des Droits Humains de l'Afrique Centrale (REDHAC)
Scholars at Risk
Southern Africa Human Rights Defenders Network
Tournons La Page – TLP
Tbilisi Shelter City
Un Ponte Per
Unit for the protection of human rights defenders of Guatemala (UDEFEGUA)
Do you want to join this call?