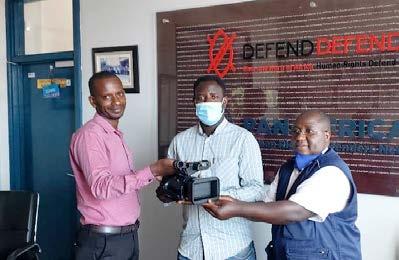 I am grateful for the support from DefendDefenders and ProtectDefenders.eu. I can now continue my work which is especially needed during the elections – Aaron Mukama
Aaron Mukama is a Ugandan journalist who works for a television company in Uganda called NTV. He reached out to DefendDefenders – a ProtectDefenders.eu's partner – reporting various threats he was receiving regarding his work and his covering of the elections in Uganda. Aaron came up in the headlines when he stopped coverage of a strike at Makerere University to save a student who had fainted because police tear gas was thrown to disperse striking students. The journalist's glasses were broken during the rescue operation, his equipment destroyed, and he was injured during the strike. While covering the opposition leader, he was hit by a  canister and his teeth were broken and he was required to get an implant.
Within the ProtectDefenders.eu emergency grants programme, DefendDefenders was able to provide Aaron with a one-on-one engagement where his security and psychological worries were dealt with. He was given security and well-being tips after having suffered a traumatic experience.  Aaron was also enabled to get the medical support that he required and received the implant that has helped him with his speech since he was struggling to speak effectively after the Injuries he had sustained. Aaron's equipment was also replaced to enable him to continue with his work in journalism. After the support, Aaron is able to continue with his work in a safer manner with the skills and knowledge in physical and digital security and his new equipment that was provided for him, and he continues financially providing for himself and his family.
This and other examples of our support are featured in our 2020 ProtectDefenders.eu Annual Report.