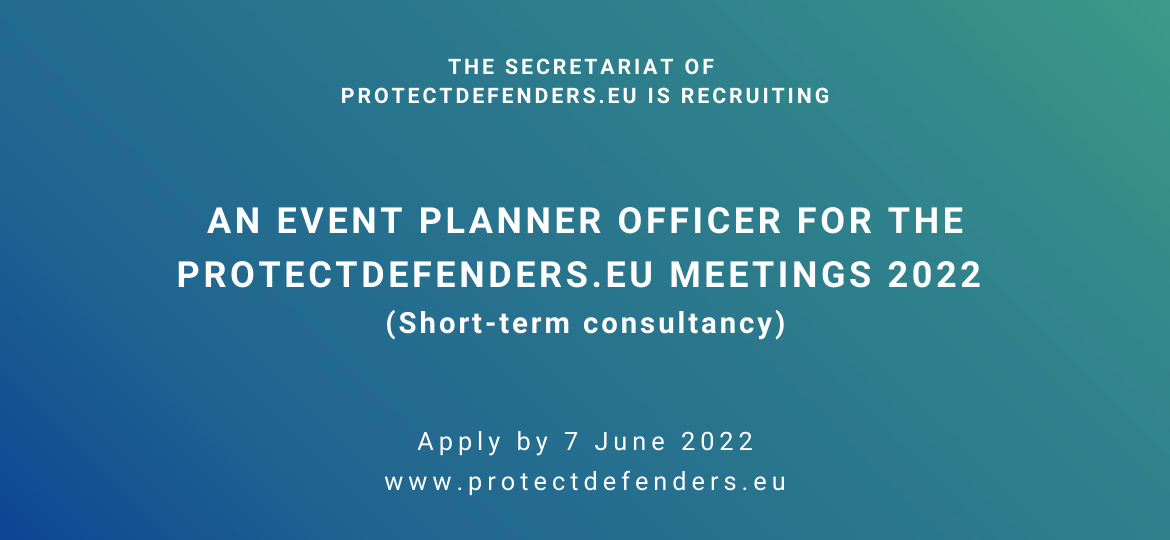 The Secretariat of ProtectDefenders.eu is looking for an Event Planner (Short term consultancy). The objective of this consultancy is the successful organization of the annual meeting of beneficiaries of the EU HRD Mechanism ProtectDefenders.eu, which should take place in Brussels in autumn 2022. The terms of reference for this position are available for download here. 
The annual meeting of beneficiaries brings together human rights defenders who have benefited from the support programs included in ProtectDefenders.eu, with decision-makers, political actors and international civil society from around the world around the issue of protecting human rights defenders at risk.
The project officer will work in cooperation and under the supervision of the senior coordinator of the secretariat and the relevant program officers of ProtectDefenders.eu and will be the focal point for the logistical organization and running of this event in all its dimensions, from the preparation to the immediate follow-up of the outcomes.
RESPONSIBILITIES
Event planning within time limits.
Secure venues and accommodations, coordinate and supervise supplies, vendors, subcontractors, and providers needed for the event.
Determine and monitor resource needs – while managing budget parameters.
Act as the deputy focal point for all aspects of the event from pre-planning, pre-event activities, and on-site coordination, to post-event follow-up.
Develop effective and collaborative relationships with internal and external stakeholders.
Liaise with guests and participants to identify their needs and to ensure satisfaction.
Specify staff requirements – including volunteers at event, and coordinate their activities, assign duties, and provide general direction.
Organize facilities and details such as decor, catering, entertainment, transportation, location, invitee list, special guests, equipment, promotional material etc.
Provide feedback and periodic reports to stakeholders and managers.
Ensure compliance with insurance, legal, health and safety obligations.
Cooperate with communication and advocacy activities and plans.
Proactively handle any arising issues and troubleshoot any emerging problems on the event days.
Conduct post-event data and strategic analysis to inform future events.
EXPERIENCE REQUIRED AND PERSONAL SKILLS
Bachelor's degree, preferably in Hospitality Management, Human Rights, or Communications.
2-3 years experience planning and executing events of varying sizes with international civil society organisations.
Ability to manage external vendor resources and relationships.
Demonstrated project management skills, including budget oversight.
Excellent time management and communication skills.
Excellent written and oral communication skills in English is a must. Ability to effectively communicate in French, Spanis, Arabic, or Russian is a valuable asset.
Ability to multi-task and adapt to changing priorities and duties.
Sensitivity, ability to adapt to various sociocultural contexts and a vocation for inclusivity and diversity is essential.
Knowledge about or previous experience working with human rights defenders is a very valuable asset.
Knowledge of and previous experience with European Union institutions is an asset.
MS Office / LibreOffice proficiency.
Discretion and respect of confidentiality.
HOW TO APPLY?
Applications must include:
CV.
Cover letter.
Financial proposal.
Please send the requested documentation in PDF by 7 June 2022 to recruit@protectdefenders.eu.
OTHER
Immediate start for an estimated duration of 4.5 months
For more information, please visit our website: www.protectdefenders.eu