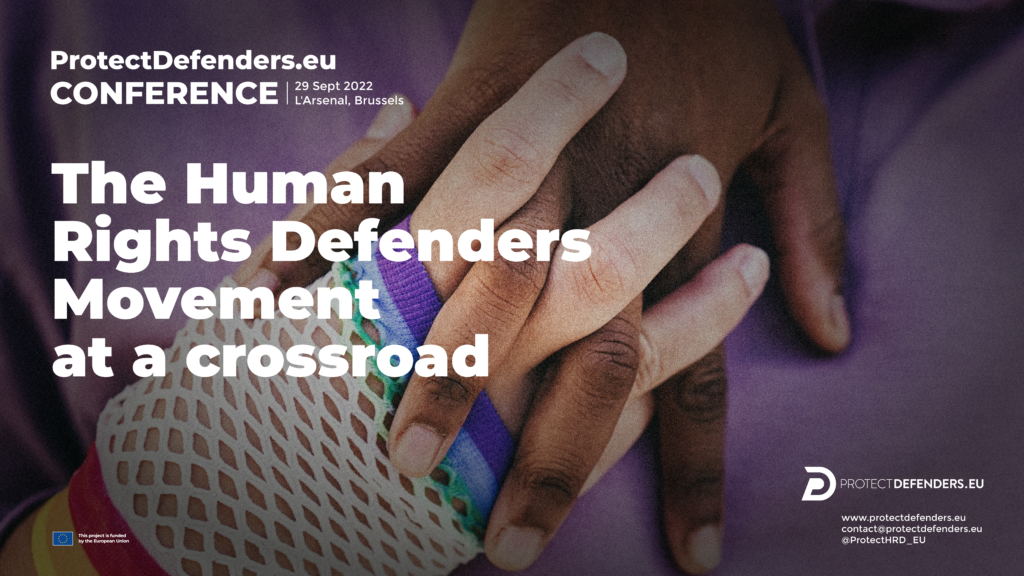 On the occasion of our Annual Meetings 2022, ProtectDefenders.eu is organising in Brussels the conference «The Human Rights Defenders' Movement at a crossroad», to be held on 29 September 2022, from 16h00 at L'Arsenal, Brussels (Chaussée de Wavre, 950 1040).
The conference will be followed by a walking dinner and a cocktail offered to all the participants.
Register by 26 September to receive your invitation (limited places available).
---
For the first time since the beginning of the COVID crisis, ProtectDefenders.eu resumes the organization of its annual conference in person, in Brussels. This year, more than thirty human rights defenders from all over the world will take the floor in a moment of a global backlash against the grass-roots movement for human rights and democracy and will call to renew the EU pledge to human rights defenders.
This conference will feature the testimonies and experiences of a great diversity of grassroots activists coming from all backgrounds, with the participation of:
The United Nations Rapporteur on the situation of Human Rights Defenders, Mary Lawlor;
The French Ambassador at Large for Human Rights, Delphine Borione;
The Inter-American Commission on Human Rights Rapporteur on the Rights of Human Rights Defenders and Justice Operators, Commissioner Joel Hernández García.
As well as Human Rights NGOs, representatives of international and regional Protection Mechanisms, representatives of the European Union institutions, and members of the EU Temporary Relocation Platform.
The conference will be followed by a walking dinner and a cocktail open for all the participants. Interpretation will be provided in English, French, Spanish, Russian, and Arabic.
If you have any questions or prefer to register via e-mail, please contact the secretariat of ProtectDefenders.eu <contact@protectdefenders.eu>
#Visa4HRDs: Join our call for an enabling and effective EU visa framework for at-risk defenders
More information
Despite an extremely adverse situation, ProtectDefenders.eu has continued to mobilise protective support to individuals at risk, and to provide comprehensive assistance to organisations and movements confronting security threats. The support of ProtectDefenders.eu has helped human rights defenders and grassroots human rights groups to strengthen their resilience and protection globally, particularly in the most difficult contexts, making a significant contribution to their ability to continue their work.
Last year, the activities of the EU HRD mechanism have been impacted by an unprecedented increase in requests for urgent protective support from defenders and communities: ProtectDefenders.eu has had to respond to, among other severe crises, the dismantling and repression of civil society in Belarus, the consequences of the coup d'état in Myanmar on civil society and HRDs, and the collapse of Afghanistan as the Taliban took over its government.
ProtectDefenders.eu has continued to provide a comprehensive, holistic and effective emergency protection for HRDs at the greatest risk, including 24/7 support, and to invest in the resilience and capacity of human rights organisations to continue their work in adverse environments – notably through lifeline and core-funding grant-making to local actors, including communities defending rights. ProtectDefenders.eu has also ensured that international temporary relocation capacities remain operational and accessible for HRDs and members of their families, and has taken a significant step in strengthening regional relocation structures. Furthermore, and despite the prevailing limitations created by the pandemic, capacity-building activities have continued to provide access to knowledge about reinforced protection strategies for the community of defenders. Similarly, ProtectDefenders.eu has strengthened its support to individual HRDs and NGOs through its reactive and protective advocacy work to HRDs at risk through urgent interventions, reports, and related proactive steps, mobilising the international community in an effort that has led to multiple success stories throughout the world.
This coordinated implementation, coupled with a holistic and complementary approach between partners, actions, strategies, and programmes, continues to step up the practical support available to HRDs at risk and local human rights NGOs.