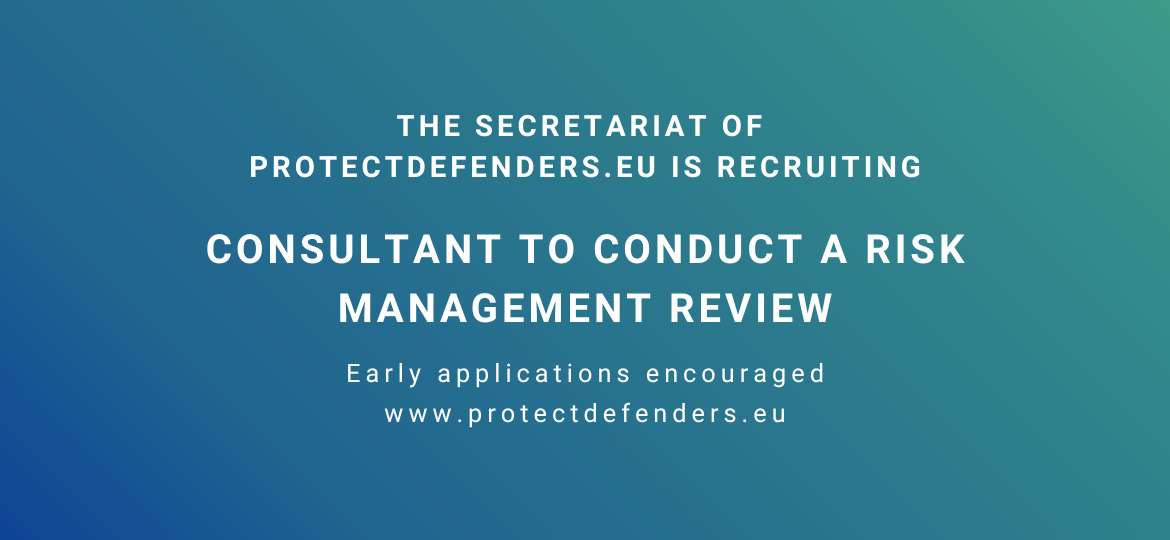 As part of its ongoing organizational development, the Secretariat of ProtectDefenders.eu is looking for a consultant to conduct a risk management review. The consultant will assess the current structure and policies of the Secretariat and then support the Secretariat in developing an action plan and in implementing the agreed-upon actions.  The Terms of Reference for this position are available for download here.
The aim of the consultancy is to assess the risks faced by the Secretariat in line with the work that they do and work on policies and procedures in mitigate these risks. The aim is further to assist the Secretariat in the development of improved policies in line with internal and external requirements in a consultative manner with the entire Secretariat team and Board.
DELIVERABLES
Assessment of the current risks faced by the Secretariat and its programmes.
Develop an Action plan through group consultations with relevant stakeholders.
Implement said Action plan, in line with best sectoral practices. This may include (non-exhaustive list):

Updating existing policies
Drafting of new policies
Updating relevant documents (contracts…)

Provide a presentation to the Board of Directors on the outcomes of the assessment
Provide a training to the Secretariat team on outcomes of the Action plan (including on policies)
EXPERIENCE REQUIRED AND PERSONAL SKILLS
Demonstrable knowledge of organizational risk management.
Demonstrable knowledge in policy development, in line with EU requirements
Understanding of the importance of holistic and inclusive perspectives.
Strong skills in facilitation and communication.
Discretion and respect of confidentiality.
Quality-oriented.
Autonomous team player.
Excellent oral and written communication skills in English.
HOW TO APPLY?
Applications must include:
CV.
Cover letter and work-plan, including time-frame ending in October 2023
Financial proposal.
Please send the requested documentation in PDF to recruit@protectdefenders.eu. Given the rapid deadline, early applications are encouraged as the call may be closed rapidly with the right candidate.