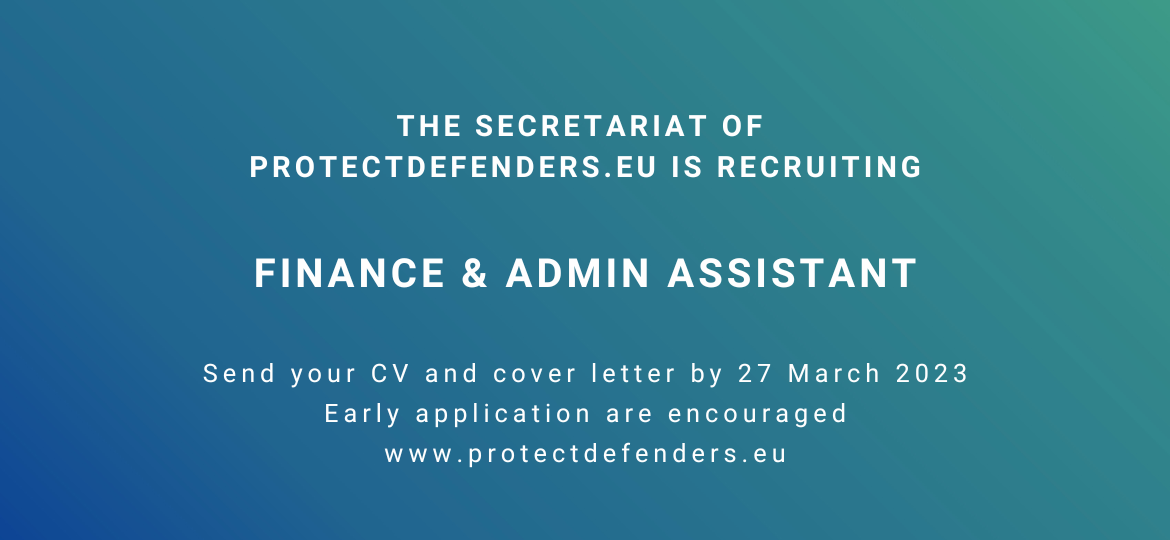 PURPOSE OF THE POSITION
Based at the Secretariat's office in Brussels and reporting to the Head of Finance, the Finance and Admin Assistant supports the dynamic and energetic team of the Secretariat by providing support to the financial management of the main projects, and the sound financial/administrative functioning of the Secretariat. The Terms of Reference for this position are available for download here. The responsibilities of this role stretch across the following domains: Financial Management, Administrative and Logistical Support. As part of the Finance/HR/Admin team the incumbent might be asked to support the team as back-up and as requested. A non-exhaustive list of responsibilities are outlined below:
MAIN TASKS AND RESPONSIBILITIES
Financial Management
Support the Head of Finance in the coordination process of the financial aspects of the multi-year, multi-partner program in line with donor and consortium requirements;
Support in ensuring financial management systems and records are effective and robust;
Support in consolidating and monitoring cash flows and reporting templates;
Being the main focal point for the external accountants, closely monitor expenditures and support the Head of Finance in the finalization of yearly accounts;
Maintain an adequate filing system for all financial, accounting and administrative deliverables;
Support in preparing expenditure verifications and external audits;
Expenditure management: verification and entry of payments by bank transfer and verification of office expenditures made by other means (cash, credit card, Western Union, etc.)
Liaising with the bank and any other relevant banking/credit institutions and/or financial service companies;
Coordinating reimbursement requests and processing related payments by ensuring the compliance with internal and donor requirements, and the adequate filing of supporting documents;
Support the team and the Secretariat in developing and updating internal policies and procedures;
Regularly transmitting information to the Head of Finance regarding financial records and adjusting transactions as booked by the external accountant when necessary;
Administrative and Logistical Support
Being the main focal point for external service providers, namely IT support external provider, building manager, etc.;
Support in arranging office spaces and communicating with vendors to ensure the proper office management;
Maintain assets, oversee the inventory and keep the service providers' registry up to date;
Support logistics of travel and meetings as necessary;
Support in validating procurement processes in compliance with internal and donors' regulations;
Any other tasks as required.
QUALIFICATIONS REQUIRED
University or professional degree in finance, economics, business, accounting or related field preferred;
Previous experience in Finance/Admin position, preferably in the Belgian/international context and in the NGO sector
Working knowledge of MS Office applications
Strong communication skills in English. French or Dutch knowledge is an asset
PERSONAL SKILLS
Good organisational skills, detail – oriented. Ability to plan and prioritize work in an efficient manner.
Ability to handle confidential and sensitive information.
Outstanding interpersonal and communication skills.
Ability to adapt to multidisciplinary work in the environment of a multicultural team.
Ability to work with people who are in stressful and difficult situations.
Proactively seeks information, guidance and clarifications when required.
Willing to invest in professional development, learning new skills and actively seeks feedback.
STARTING DATE & CONDITIONS
Preferable starting date: ASAP
Duration and conditions: 12-month renewable contract – entry level gross monthly salary as per internal salary scale (gross monthly salary approx. 2460 EUR, depending on experience)
Excellent benefits such as meal vouchers, eco vouchers, insurance and pension plan, transport allowance, working from home flexibility, training and well being benefits
26 vacation days pro-rata and 5 additional vacation days
European Supplementary Holidays
The candidate needs to be based in Belgium and have a valid work permit.
The position is full-time but part-time arrangements may be possibleHOW TO APPLY?
Please send your CV and cover letter in pdf (please include information about your availability) before 27/03/2023 by email at recruit@protectdefenders.eu with the subject: 'Finance and Admin Assistant – Your surname'.
Please note that only short-listed candidates will be contacted.
Interviews will be held online and in-person.
Early applications are encouraged, as the position might be filled before the deadline!