ProtectDefenders.eu, the European Union Human Rights Defenders mechanism implemented by international civil society, launched its Index of attacks and threats against Human Rights Defenders, featuring a monitoring of alerts concerning violations perpetrated against individuals promoting Human Rights around the globe. The Index of attacks and threats against Human Rights Defenders is available on ProtectDefenders.eu website.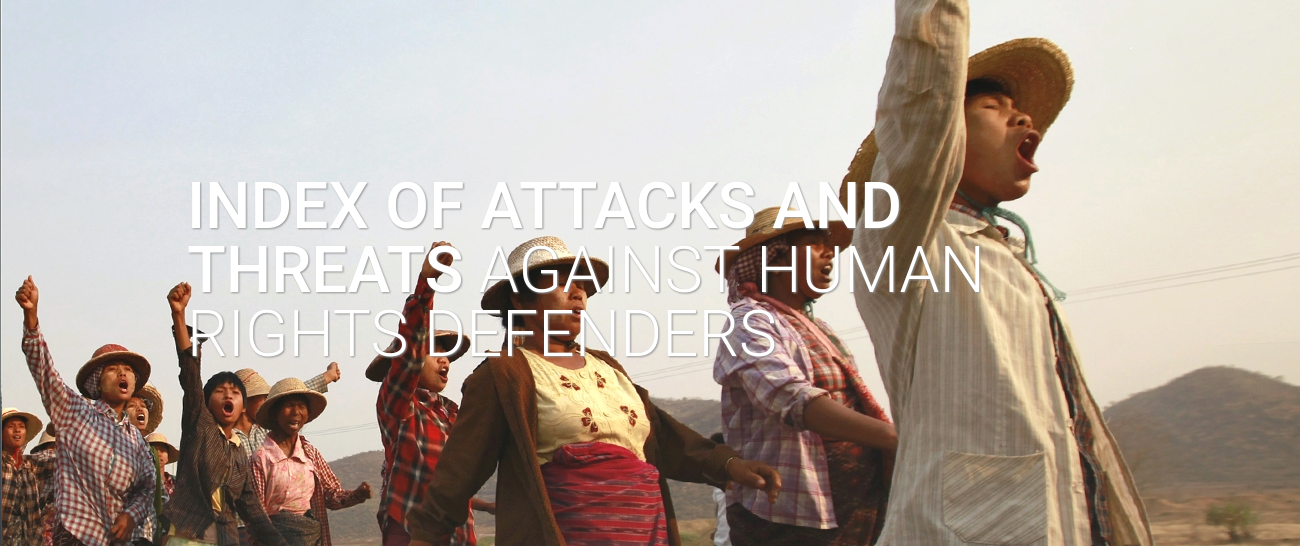 This Index does not intend to be exhaustive, as many alerts and attacks go unreported and real figures are much higher. Still, with more than 1000 documented alerts reported by ProtectDefenders.eu partners, it aims at becoming a source of updated information that should allow the identification of worrying trends and encourage the coordination of adequate responses by decision-makers and authorities to counter the violations faced by defenders.
Since January 2016 up to today, ProtectDefenders.eu has compiled more than 1000 documented alerts, provided by ProtectDefenders.eu partners: Front Line Defenders, Reporters Without Borders and FIDH and OMCT within the Observatory for the Protection of Human Rights Defenders. Alerts are based on verified information concerning violations affecting Human Rights Defenders. As part of its advocacy mission to raise awareness about the plight of Human Rights Defenders, ProtectDefenders.eu has created this new platform to provide the necessary information for relevant actors to engage and take action to alleviate the situation of Human Rights Defenders at risk. It is ProtectDefenders.eu's belief that an adequate warning helps to break the isolation in which actors of repression attempt to place Human Rights Defenders.
Only in 2017, more than 200 violations have already been committed against defenders, with at least 17 murders and 51 defenders imprisoned around the world. Judicial abuses, including arbitrary detention, judicial harassment, criminalisation or sentencing, are the most frequent types of alerts concerning defenders, with more than 130 cases documented in 2017 alone.
Among the areas of action of threatened defenders, the Index of Alerts confirms the particular plight faced by defenders of land and environmental rights, pro-democracy activists and defenders of freedom of expression, as the most targeted categories of defenders around the world.
All of the alerts of the ProtectDefenders.eu Index can be searched and refined by country, field of action of the Human Rights Defender, gender, profile or specific type of violation faced. The Index features interactive graphs and listings and aims at ensuring optimal accessibility to the information available.
Explore the new ProtectDefenders.eu Index of attacks and threats against Human Rights Defenders