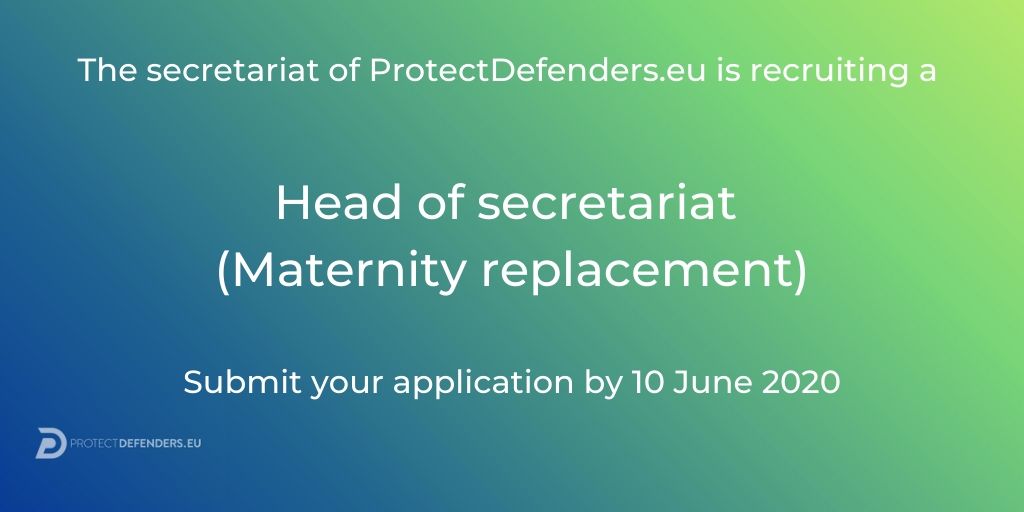 The Secretariat of ProtectDefenders.eu – FIDDH is recruiting a Head of Secretariat for a maternity replacement. (Click to read the full description of the vacancy)
As director of the Secretariat of ProtectDefenders.eu – FIDDH, the Head of Secretariat reports directly to the Chair of the Board of ProtectDefenders.eu. They works under the supervision and management of the Board with the assistance of other Secretariat staff members. They supervises and coordinates effectively all elements of three programmes: the EU Human Rights Defenders Mechanism EIDHR2019/410-910, the EU Emergency grants for Human Rights Defenders at risk EIDHR2019/412-087 and the Comprehensive support to Human Rights Defenders in Turkey IPA2018/403-372. In addition, they provides overall representation of, and coordination between, the Board of ProtectDefenders.eu, the Turkey project Board, the members of the two Consortia; ensures liaison with the EU Commission, EEAS, EP and other external actors; manages the Secretariat and its staff.
Applications comprising a CV with at least two references and a cover letter should besent by email to recruit@protectdefenders.eu before 10 June 2020. Please indicate as subject of the email: "your surname  – HoS maternity replacement"
The position might be filled before the deadline, early applications are encouraged.
The successful candidate will be expected to start work in June 2020 until February 2021. The Head of Secretariat will be based at ProtectDefenders.eu Secretariat in Brussels and would have the necessary permit to work in the EU.