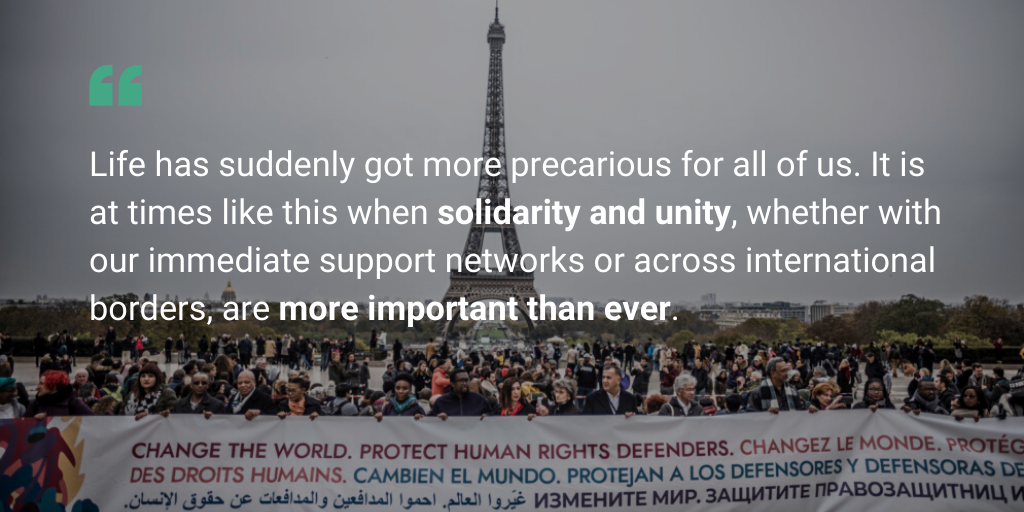 Given the extremely challenging and difficult times due to the COVID-19 pandemic, ProtectDefenders.eu and all the convenors of the Human Rights Defenders World Summit 2018, are sending a message of solidarity to the human rights defenders community. Our organisations remain operational and active, and continue to put pressure on governments so that human rights are at the forefront of any measures they take to contain the COVID-19 pandemic.
For instance, ProtectDefenders.eu has taken all the necessary measures to maintain its global protection programmes to provide practical support to human rights defenders and local communities at risk. ProtectDefenders.eu's emergency support programmes – including the 24/7 hotline, remain available, as well as the funding for human rights organisations and groups operating in repressive contexts. Moreover, it will continue to receive requests for temporary relocation for at-risk defenders – and their families when possible, that will be processed as long as global movement limitations allow.
Read the full message for more information on the actions undertaken by the conveners of the Human Rights Defenders World Summit 2018.