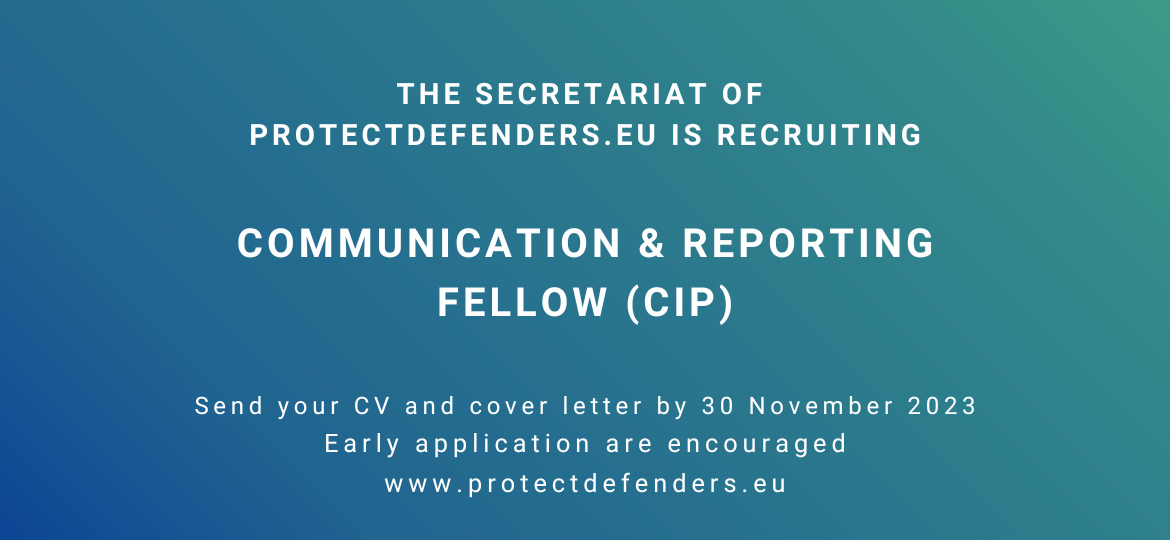 PURPOSE OF THE POSITION
Based at the Secretariat's office in Brussels and reporting to the Senior Coordinator, the Communication and Reporting Fellow supports the dynamic and energetic team of the Secretariat across various areas, including External Communication, Website Management, Monitoring, Reporting, and Evaluation. The Fellow will undertake a range of tasks to ensure efficient organization, and successful implementation, development, and maintenance of communication and reporting activities. The full Terms of Reference for this vacancy are available for download here.
MAIN TASKS AND RESPONSIBILITIES
External Communication and Visibility
Regularly draft and produce social media content for the Project main social media platforms.
Elaborate original content for the website to highlight the impact of the Project and its activities.
Update ProtectDefenders.eu website's resources, and support the development of new website sections.
Update and review the ProtectDefenders.eu Index of alerts.
Maintain a clean and organized general contact inbox, promptly and adequately responding to emails or forwarding them as appropriate.
Provide support for ad hoc communication, events, and advocacy needs as they arise – including the organization of the the Global Beneficiaries Meeting in Brussels.
Monitoring, Reporting, and Evaluation
Support organization and facilitation of monitoring activities of specific programs.
Process reporting and evaluation processes and activities by developing and maintaining reporting tools and matrices.
QUALIFICATIONS REQUIRED AND PERSONAL SKILLS
Bachelor's degree in a relevant field (e.g., Communications, International Relations, Public Relations)
Demonstrable interest or previous experience – including volunteering experience, in communication and social media, as well as project management.
Familiarity, sensitivity, and knowledge of issues related to human rights, human rights defenders, civil society, or EU institutions.
Strong organizational skills with the ability to multitask and meet deadlines.
Excellent written and verbal communication skills in English and either French or Spanish.
Proficiency in social media management.
Attention to detail and accuracy in all tasks.
Ability to work independently as well as collaboratively in a team setting.
Flexibility to adapt to changing priorities and adhoc tasks
Strong interpersonal skills.
Ability to adapt to multidisciplinary work in the environment of a multicultural team.
STARTING DATE & CONDITIONS
Preferable starting date: As soon as possible
The candidate will be offered a CIP contract for a period of 6 months which could be renewed for additional 6 months under certain circumstances.
38 hours per week. The fellow can dedicate the equivalent of one working day per week for training and learning activities.
Remuneration of approximately 900 euros per month.
Work insurance, meal vouchers, and monthly local transportation.
The candidate needs to be based in Belgium and have a valid work permit.
Hybrid workplace model: in-office and home based work
HOW TO APPLY?
Please send your CV and cover letter (please include information about your availability) before 30 November 2023 by email at recruit@protectdefenders.eu with the subject: 'Comm & Rep Fellow – Your surname'.
Please note that only short-listed candidates will be contacted.
Interviews will be held online and in-person.
Applications will be reviewed on a rolling basis. Early applications are encouraged.