t's been 15 years since the Risk Approach for Protection was conceptualised. In 2020, PI conducted an online consultation with experts from around the world, to assess the effectiveness of this method and produce a set of minimum standards for the protection of W/HRDs. Tune in to learn about the importance of using the Risk Approach when it comes to the protection of women and men human rights defenders (W/HRDs*) as well as why we need minimum standards when doing so. In 2020, Protection International hosted a consultation process with UN agencies, NGOs, protection mechanisms, and practitioners from around the globe to write 20+ recommendations for these standards, and on January 27th PI will launch the results. Participate in the kick-off event which aims to change the way we approach W/HRD protection for the better.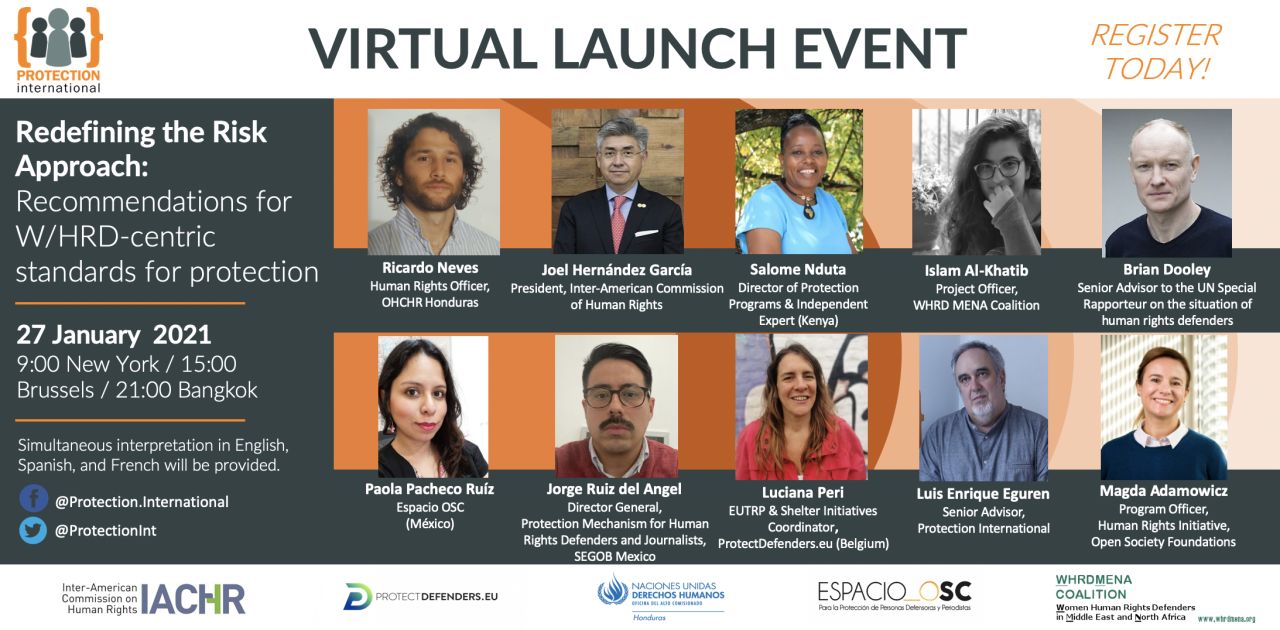 The launch event will include the following speakers:
– Joel Hernández García, President, Inter-American Commission on Human Rights (IACHR)
-Brian Dooley, Senior Advisor to the UN Special Rapporteur on the situation of human rights defenders
– Luciana Peri, Coordinator of the European Union Temporary Relocation Platform (EUTRP) and the "Shelter Initiatives" programme, Secretariat of ProtectDefenders.eu
– Magda Adamowicz, Program Officer, Human Rights Initiative, Open Society Foundations
– Ricardo Neves, Human Rights Officer, Office of the United Nations High Commissioner for Human Rights in Honduras
– Paola Pacheco Ruíz, Coordinator of Comprehensive Accompaniment to Human Rights Defenders and Migrants of the Scalabrinianas Mission with Migrants and Refugees, Espacio OSC Mexico
– Islam Al-Khatib, Project Officer, WHRD MENA Coalition
– Salome Nduta, Director of Programs, Defenders Coalition (Participating independently)
– Jorge Ruiz del Angel, Director General for the Protection of Human Rights Defenders and Journalists, Mechanism for the Protection of Human Rights Defenders and Journalists, SEGOB Mexico
Moderated by: Luis Enrique Eguren & Meredith Veit, Protection International
During the event, we will discuss how we can understand a defender-centered, gendered, intersectional, psycho-social approach when working with W/HRDs to support their protection. Key questions include:
• What are the successes and failures of how the Risk Approach is currently being implemented?
• What is the role of the State in implementing these recommendations? Donors? Civil society?
• How can we work together as a community to bring these recommendations to life?
Register here: https://bit.ly/3sqGpLO