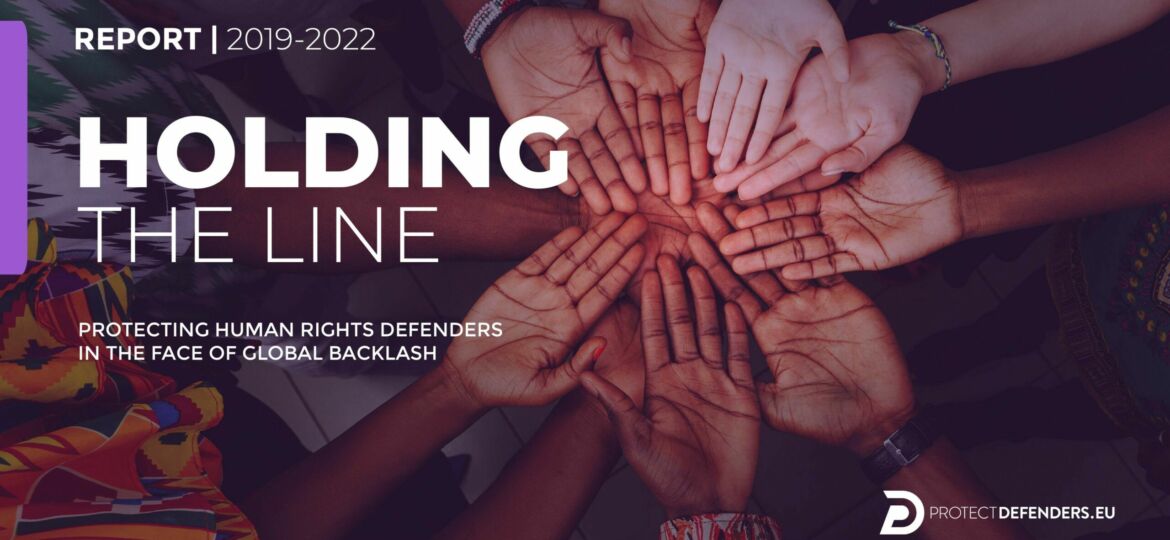 The challenges faced by HRDs globally can be exacerbated by regional and national trends that impact the operating environment for HRDs, affecting the implementation of action plans and strategies aimed at protecting their rights. From Latin America to Africa, Asia to Europe, these trends highlight the complex and evolving landscape in which HRDs operate, and the ongoing efforts needed to support and protect their vital work.
This article is part of a series of articles published in conjunction with the report, providing complementary information. You can read the full report "HOLDING THE LINE – PROTECTING HUMAN RIGHTS DEFENDERS IN THE FACE OF GLOBAL BACKLASH" here.
In West Africa, conflict is fueled by various factors such as poverty, human rights violations, poor governance, corruption, ethnic marginalization, and arms proliferation. This has particularly affected human rights defenders (HRDs) and their communities in Togo and Nigeria. Repressive laws are used by authorities and non-state actors to harass, intimidate, and detain HRDs and journalists. Despite these challenges, HRDs continue to play a crucial role in conflict management and peacebuilding in the region, contributing to the design of action plans for conflict prevention. The COVID-19 pandemic has further exacerbated restrictions, with excessive use of force by police and persistent violence against women. However, there have been positive developments in the region. In December 2021, the Togolese and Nigerian HRD Coalitions discussed laws protecting HRDs in their countries. In the Ivory Coast, the Ivorian Coalition of HRDs, was elected to become a member of the fourth permanent General Assembly of the African Union's Economic and Social Council in December 2022, marking a significant achievement. In Niger, civil society has been working on a draft law for the protection of HRDs since 2015, and in June 2022, a law was adopted by a large majority of votes in the National Assembly, offering hope for progress. However, the current situation of HRDs in Niger remains worrisome despite these positive developments.
In the Democratic Republic of Congo (DRC), the upcoming 2023 elections in are causing destabilization in the Great Lakes Region, and there are concerns about the inclusivity and democratic nature of the electoral process. The security context and ongoing conflict in the East of the country have led to a high number of internally displaced people, making access to vote challenging. Despite President Tshisekedi's initial commitment to protecting human rights and opening the civic space, there has been a containment of dissident voices, with HRDs, activists, and journalists facing threats and persecution by authorities and security forces. The Eastern part of DRC continues to face a major presence of armed groups, further complicating the situation for HRDs. However, there have been positive reforms, including institutional reforms and creation of a special mechanism to protect journalists.
Human rights defenders and journalists in Burundi face challenges including harassment, arbitrary arrests, detentions, and violence for opposing the government's actions, including the former president's anti-constitutional third term. Despite commitments made by the Burundian government and the European Union in December 2020 to improve diplomatic relations, human rights concerns on the ground remain worrisome. A planned meeting between Burundi and Rwanda in January 2021 raised fears among exiled Burundian journalists and human rights defenders in Rwanda, leading to the suspension of Burundian radios airing from Rwanda. Justice for victims of abuses and harassment has not been adequately addressed in diplomatic efforts, and continued efforts to protect human rights defenders and journalists in Burundi are crucial.
During the 2021 general elections in Uganda, there were reports of harassment of journalists and human rights defenders by elements of the police and military. The National Election Watch, a civil society organization, was also blocked. Prominent human rights lawyer Nicholas Opio was abducted and accused of money laundering, which activists believed was due to his human rights activism. However, there were positive developments with ongoing coordination between human rights organizations and the human rights committee of parliament to introduce a Human Rights Defenders Protection bill in 2020, with progress being made by the end of the reporting period.
Since Abiy Ahmed took office in Ethiopia, there has been difficulty in achieving unity among different ethnic groups, with tensions between the federal government and regional governments perceived as a threat to political stability. The conflict in the Tigray region escalated into a multidimensional war, with widespread human rights violations reported, including violations of freedom of expression and media, and freedom of association. The conflict between Amhara and Oromo groups has also compounded the security situation in the country, with human rights defenders and journalists fleeing for their safety. Additionally, border issues with Eritrea and conflicts with Egypt over the construction of the Grand Renaissance Dam remain unresolved despite previous peace agreements and mediation efforts by the African Union.
Journalists in Somalia faced harassment and threats while covering protests against President Mohamed Abdullahi Farmajo's unconstitutional attempt to stay in power past his term limit. The Committee to Protect Journalists (CPJ) expressed concern about the state of journalist protection in Somalia. While the lower chamber of parliament favored extending the President's term for two years, the upper house deemed it unconstitutional, leading to civic protests that were repressed by security forces. Moving forward, the lower chamber voted for an indirect election as per the September 2020 agreement. Somalia has a history of failed direct elections due to security concerns and lack of political will driven by ethnic divides.