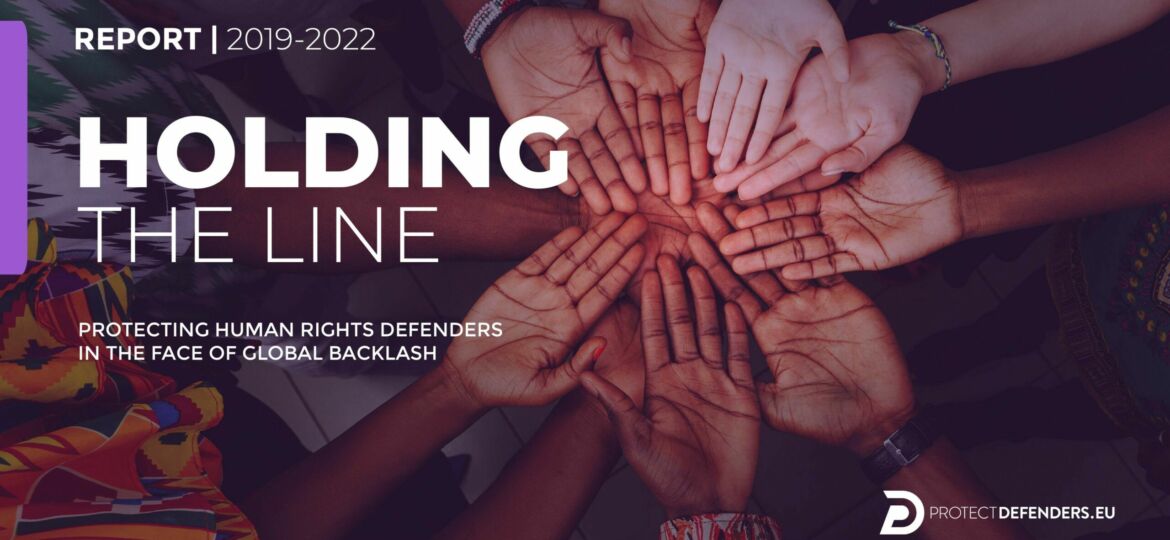 The challenges faced by HRDs globally can be exacerbated by regional and national trends that impact the operating environment for HRDs, affecting the implementation of action plans and strategies aimed at protecting their rights. From Latin America to Africa, Asia to Europe, these trends highlight the complex and evolving landscape in which HRDs operate, and the ongoing efforts needed to support and protect their vital work.
This article is part of a series of articles published in conjunction with the report, providing complementary information. You can read the full report "HOLDING THE LINE – PROTECTING HUMAN RIGHTS DEFENDERS IN THE FACE OF GLOBAL BACKLASH" here.
The MENA region has witnessed governments persistently suppressing peaceful protests and silencing dissent through intensified repression, rather than addressing the fundamental reasons behind the protests and building new social contracts. This has resulted in growing authoritarianism, repression of dissent, and human rights abuses, despite the initial hopes of the Arab Spring. The Covid-19 pandemic has been exploited by some governments in the region to further restrict freedoms of expression, association, and assembly, and to grant themselves emergency powers that curtail human rights.
One concerning trend is the increasing threats to the legitimacy and agency of human rights defenders in the context of the global COVID-19 crisis. Many governments in the MENA region have used public health measures as a pretext to crack down on pro-democracy demonstrators, human rights activists, journalists, and bloggers. Emergency laws have been passed or extended to grant governments and presidential powers, and restrictions on foreign funding for human rights organizations have been imposed, in contravention of international conventions. As a result, several grantees and civil society partners from the region, including those registered in Europe, are facing increasing constraints and controls by governments and their banks in opening accounts, receiving and disbursing funds to the region. While some of the challenges posed by the pandemic are beginning to ease, HRDs are increasingly facing difficulties related to the long-term prospects for the protection and activity of HRDs and their organizations. These difficulties are not only linked to repression and recurrent controls on foreign funding in the region, but also to impoverishment, rampant inflation, significant devaluation of local currencies, and limited access to resources for human rights actors. At the same time, marginalized populations, including migrants and women, have been left in precarious situations without assistance or protection.
Another challenge faced by human rights defenders in the region is the overall funding limitations and restrictions on access to resources. Many countries in the MENA region lack endogenous or local resources for human rights defenders and their organizations, and national regulations and practices often restrict or criminalize the receipt of foreign funding. Arbitrary freezing of assets and limited access to resources have further compounded the challenges faced by human rights actors in the region. Additionally, the deteriorating economic conditions in some countries, such as Tunisia and Egypt, have led to increased social and economic protests, and governments have responded with heavy-handed tactics, including the imprisonment of labor unionists and dispersal of striking workers.
Overall, the human rights situation in the MENA region remains dire, with governments and non-state actors continuing to commit serious human rights abuses, including torture, mistreatment in prisons, and deprivation of access to healthcare. Government surveillance of online activity has intensified, and courts are often used as instruments of repression against human rights defenders. The prospects for short-term improvement are limited, as the global geopolitical situation, such as the conflict in Ukraine involving Russia, may further empower autocrats in the region. Against this backdrop, local civil society actors in the southern Mediterranean region have increasingly sought protection and support, including mental health support.
In light of these challenges, continued and even expanded support to independent human rights actors in the MENA region is fundamental. This support can enable them to address growing threats and inequalities, combat endemic corruption and impunity, and strengthen human rights education among the younger generation. It is crucial to safeguard the gains of the 2011 Arab Spring and restore confidence in the democratic process.