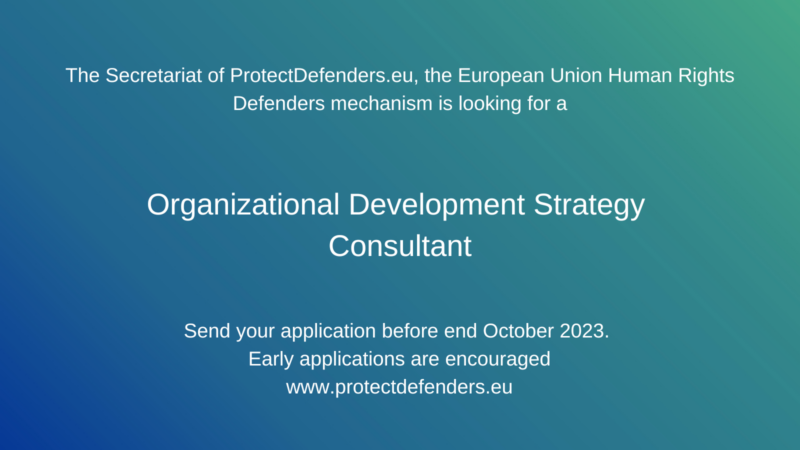 As part of its ongoing growth and expansion, the Secretariat of ProtectDefenders.eu is looking for an organizational development strategy consultant. The consultant will support the Secretariat in developing a strategic direction and action plan, in addition to support the Secretariat in its internal restructuring in close collaboration with the Board and Consortium members of ProtectDefenders.eu.
The aim of the consultancy is to assist the Secretariat in the development of an organizational strategy through workshops and consultations.
DELIVERABLES
Assessment of the current structure of the Secretariat and its programmes (organizational review).
Support the building of the strategy through group consultations with relevant stakeholders. Expected components include (non-exhaustive list):
Consultation with Secretariat, Board & Consortium in view of leading an on-line or in-person workshops;
Support creation of intention around growth or consolidation as well as creation of a shared organizational narrative
Support developing of an organizational identity; including mission statement development and definition of shared identity
Facilitate discussions around the model of protection & the place of ProtectDefenders.eu within the HRD movements & organizations that support them
Support and suggest organizational re-structuring and organizational chart development, including identification of department & programme interconnectedness
TENTATIVE TIMELINE
Consultation with Board of ProtectDefenders.eu: November 2023
Consultation with Secretariat team, validation of action plan: by December 2023
Facilitation of Board & Secretariat workshop: February 2023
Facilitation of Consortium workshop: May 2023
EXPERIENCE REQUIRED AND PERSONAL SKILLS
Demonstrable knowledge of organizational strategy building and restructuring.
Understanding of the importance of holistic and inclusive perspectives.
Strong skills in facilitation and communication.
Strong knowledge on organizations that coordinate Consortiums
Strong knowledge on project-funded NGOs and human rights a plus
Discretion and respect of confidentiality.
Quality-oriented.
Excellent oral and written communication skills in English.
HOW TO APPLY?
Applications must include:
CV.
Cover letter and work-plan, including time-frame starting as soon as possible and before end October 2023.
Financial proposal.
Please send the requested documentation in PDF to recruit@protectdefenders.eu. Given the rapid deadline, early applications are encouraged as the call may be closed rapidly with the right candidate.