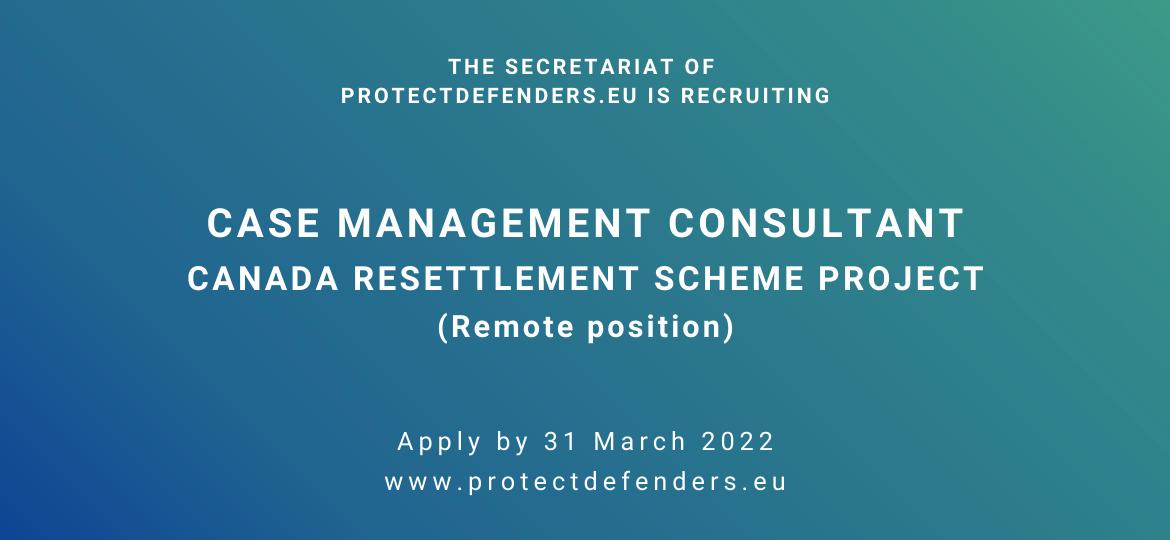 The Secretariat of ProtectDefenders.eu – The EU Human Rights Defenders mechanism – is recruiting a Case Management Consultant for its current program with the Canadian Government.
This position will have the support role to deliver on the ProtectDefenders.eu partnership with the Government of Canada on their Refugee Stream for Human Rights Defenders (HRDs). The role will be responsible to work directly with Afghan HRDs to provide them with support and guidance on how to prepare their resettlement applications. The terms of reference for this position are available for download here.
The purpose of the Canadian Government's Refugee Stream for Human Rights Defenders is to enable a limited number of HRDs who have had to leave their country due to risks they were facing because of their human rights work and who don't have access to a durable solution in the host country where they are now living, to have the opportunity to resettle permanently in Canada.
It is a new program and role in the organization and as such, the role may develop and change as it is rolled out. Guidance and training on technical aspects will be provided to the selected candidate.
TASKS & GENERAL RESPONSIBILITIES:
The key accountability and associated duties include:
1. Management of applications and documentation
• Reaching out to/respond to and work with HRDs to help them understand and go through the application process;
• Advise, or support HRDs in filling and editing their visa application forms;
• Work with HRDs to gather and submit their supporting documents;
• Liaise and work with the Program Coordinator for review of the cases;
• Cross checking and review of the cases with HRDs after feedback of the Program Coordinator;
• Ensure that the applications adhere to the criteria for resettlement and are as comprehensive as possible;
• Managing the recording and tracking of applications using the tools created in the program,
• Following the operational protocols and data protection policies of the PD.EU at all times
2. Analysis & Decision-making
• Assess and verify incoming applications against Refugee Steam eligibility and admissibility criteria;
• Analyze trends in requests/referrals within sociopolitical and geographical contexts;
• Assess and identify cases who need financial and technical support to fill their applications and refer them for due action
• Understand and apply UNHCR vulnerability criteria in their overall assessment and handling of the case
3. Collaboration
• Being the first focal point for communication with HRDs
• Possible collaboration with referral partners for technical exchange and consistency
• Working with the Program Coordinator to submit all application on time and apply the necessary reviews
• Working with utmost objectivity and professionalism with all HRDs of different backgrounds to document and submit their applications and/or support them in the process.
4. Measuring Impact
• Providing monthly reports to the Program team on progress and individual cases status
• Providing information on trends, statistics and achieved results in terms of protection of HRDs;
EXPERIENCE REQUIRED
• Experience of working a minimum of 2 years in the area of human rights;
• Understanding of and experience with the context and human rights sphere of Afghanistan;
• Experience of working successfully with people from diverse cultural backgrounds;
• Experience of working as a Case Worker in similar processes highly desired;
• Experience with UNHCR or INGOs or on refugee affairs is highly desired;
PERSONAL SKILLS
• Excellent organizational and task management skills;
• Strong political analysis and good judgment;
• Strong reasoning ability;
• Fluency (written & oral) in English and Dari, Pashtou desired
• Excellent attention to details
• Passionate and empathetic towards the project at hand
STARTING DATE & CONDITIONS
• Preferable starting date: ASAP
• The position is meant to work remotely and is open to all eligible applicants from all locations.
• Remuneration will be negotiated and agreed with the successful candidate, on a competitive scale in the field.
• Duration and conditions: the candidate will be offered a 6 months renewable consultancy contract.
• The selected candidate should be able to legally declare and pay all taxes on their income from this position, within their country of legal residence.
• Due to the COVID 19 pandemic, please be aware that the ProtectDefenders.eu staff work from home until further notice.
HOW TO APPLY?
Please send your CV and cover letter (please include information about your availability) before 31-03-2022 by email at recruit@protectdefenders.eu with the subject:
'Canada CMC – Your surname'.
Please note that only short-listed candidates will be contacted.
Interviews will be held via Skype.
If you're interested in this position, early applications are encouraged, as the position might be filled before the deadline due to its urgency.