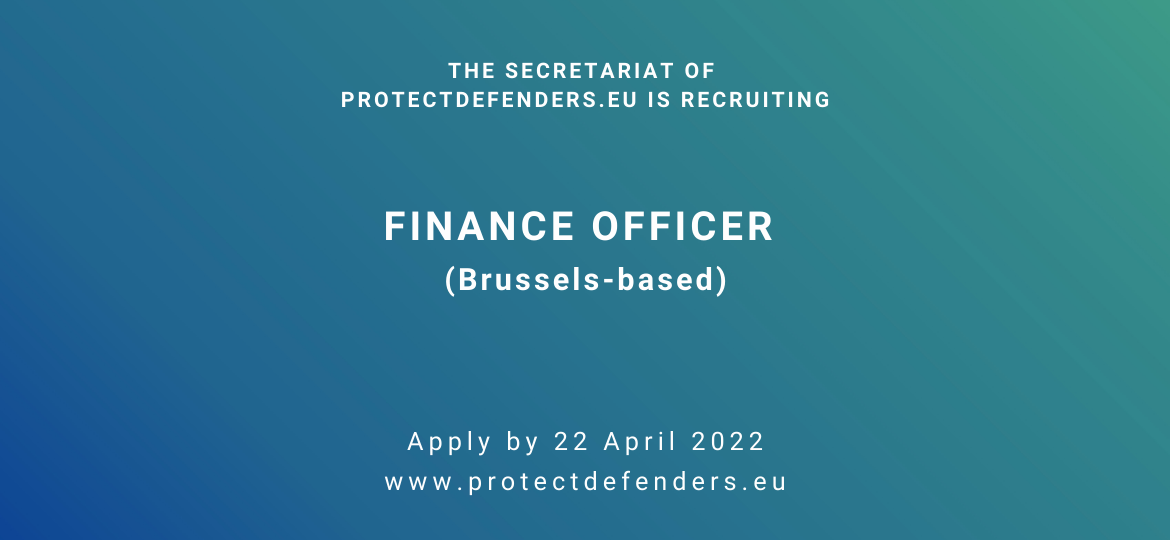 The Secretariat of ProtectDefenders.eu – The EU Human Rights Defenders mechanism – is recruiting a Finance Officer for its current programs with the Canadian Government as well as the EU Delegation. This position is Brussels-based. The terms of reference for this position are available for download here.
This role will be responsible for keeping all financial records of the projects in check, conduct financial reporting, manage the budget forecast and actual expenditure, and have overall financial responsibility of these project under the direct supervision of the Head of Finance.
These are new programs and as such, the role may develop and change as it is rolled out. Guidance and training on technical aspects will be provided to the selected candidate.
Tasks & General Responsibilities
The Finance Officer will be responsible for:
Financial Control:
• Coordinate the financial aspects of the multi-year, multi-partner program in line with donor requirements and the contract;
• Process disbursement of funds in accordance with the agreed-upon schedules;
• Ensure that financial management systems and records are effective and robust;
• Consolidate cash flows, reporting templates, financial plans and amendments throughout the project life;
• Maintain an adequate filing system for all financial and accounting deliverables to ensure ease of access during internal/external audit;
• Monitor budget burn rates and cash-flow projections;
• Recommend appropriate action on any significant variances ( +/-10%) and prepare budget amendments where necessary;
• Prepare the financial accounts for external audit and coordinate audit activities;
• Follow up on timely implementation of the recommendations to remedy significant variances.
Financial Reporting:
• Oversee forward planning and preparation for reporting to the donor, adherence with consortium requirements and time-lines, and timely submission of reports ;
• Produce integrated financial reports on a timely basis and in line with international accounting standards and donor regulations;
• Finalize yearly accounts and provides any ad-hoc financial reports that may be required;
• Follow up the level of expenditures of the programme budget in close coordination with the Head of Finance;
• Prepare and coordinate each expenditure verification and possible external audit;
Capacity Building and general administrative support:
• Be available to partners to clarify donor financial rules and check compliance of reporting as needed;
Experience/knowledge
• Degree in Finance or Accounting or professional accounting qualification, or three to five years equivalent professional experience;
• Minimum of three years of experience in a finance/accounting role preferably with an international NGO;
• Demonstrated experience in developing and managing large budgets, with preference for previous experience working in a consortium or a network;
• Experience in working on projects funded by major international donors, with preference for previous experience with the EU delegations and Canadian government;
• Strong coordination/negotiation skills specifically with the ability to effectively coordinate among partner organisations:
• Understanding of the security and protection of human rights defenders
Skills
• Excellent oral and written English language skills. Fluency in Dari and/or Urdu strongly preferred, French is an asset;
• Strong financial management skills;
• Ability to work towards tight reporting deadlines;
• Strong analytical, interpersonal, communication and organisation skills.
Starting date & conditions

• The Finance Officer would be willing to be based in ProtectDefenders.eu secretariat in Brussels and would have the necessary permit to work in the EU. Other candidates may be considered.
• Starting date: May 2022 at the latest
• The candidate will be offered a 6 months renewable contract.
• Remuneration: Starting salary is of 39000 EUR.
How to apply
• Please send your CV with at least two references and a cover letter (please mention your availability) by email to recruit@ProtectDefenders.eu before April 22, 2022, with the subject:
'FO April 2022 – Your surname'.
• Early applications are encouraged as the position may be filled before the deadline.
ProtectDefenders.eu values diversity and is an equal opportunity employer.