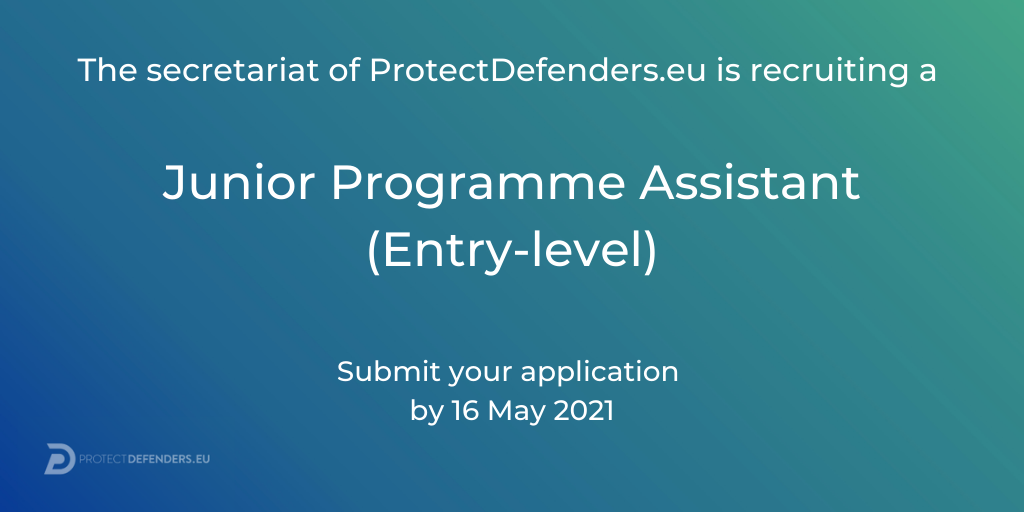 12 MAY 2021 UPDATE: Thank you for your interest. We are no longer accepting applications.
Based at the Secretariat's office in Brussels, the Programme Assistant will provide support to the Grant Programmes, under the supervision of the Senior Programme Officer and Head of Secretariat.
The Programme Assistant will carry out a variety of tasks related to the coordination of the Emergency Grants programme for at-risk human rights defenders, the grant-making programme for local human rights organisations, and the implementation of the Temporary Relocation Programme.
This is an excellent opportunity for learning and achieving relevant work experience in the field of human rights at global and EU levels.
Tasks & General Responsibilities:
Carry out the first assessment of grants applications received, preparing summaries and analysis of applications;
Monitor the grant programmes inboxes and reply to incoming messages, including urgent requests;
Communicate in a secure and sensitive manner with the applicants, human rights defenders, partners and other stakeholders in relation to the grant programmes;
Follow up on the grants awarded, monitoring the status of progress of grants and liaising with stakeholders to receive intermediate and final narrative and financial reports;
Maintain up to date information on the server and in the database, including preparing datasets for analysis;
Support the Senior Programme Officer in the administration of the grant programmes; organising the grant payments and drafting the grant contracts, among others;
Participate in meetings, preparing summary and briefing notes;
Work collaboratively with the ProtectDefenders.eu team and undertake other relevant tasks specified by the Senior Programme Officer and Head of the Secretariat.
QUALIFICATIONS REQUIRED
Master's degree in law, international relations, social sciences, or related field;
First professional experience in the human rights sector, and in the programme implementation is required;
First experience with project management, and/or project development and/or grant management;
Experience, professional or volunteering, with human rights organisations and human rights defenders;
Understanding of the needs of human rights defenders at risk;
Knowledge of EU institutions, UN procedures and regional mechanisms for the protection of human rights would be an asset;
Excellent drafting and editing skills;
Database management skills;
Excellent written and oral skills in English and Arabic and/or Spanish are mandatory;
Knowledge of French and Russian would be an advantage.
PERSONAL SKILLS
Committed to the defence of human rights and values of ProtectDefeneders.eu. A strong desire to support human rights defenders at risk;
Ability to work with people who are in stressful and difficult situations;
Ability to handle confidential and sensitive information;
Outstanding interpersonal and communication skills;
Ability to adapt to multidisciplinary work in the environment of a multicultural team;
Good organisational skills, detail–oriented. Ability to plan and prioritize work in an efficient manner.
STARTING DATE & CONDITIONS
Preferable starting date: 1 June 2021;
Duration and conditions: the candidate will be offered a CIP contract for a period of 6 months which could be renewed for additional 6 months under certain circumstances;
Remuneration of approximately 800 euros per month;
ProtectDefenders.eu also provides work insurance, meal vouchers and monthly local transportation;
Career development opportunities;
Due to the COVID 19 pandemic, please be aware that the ProtectDefenders.eu staff work from home until further notice;
The candidate needs to be based in Belgium and have a valid work permit;
HOW TO APPLY?
Please send your CV and cover letter (please include information about your availability) before 16 May 2021 by email at recruit@protectdefenders.eu with the subject: 'Junior Programme Assistant – Your surname'.
Please note that only short-listed candidates will be contacted.
Interviews will be held via Skype.
Early applications are encouraged, as the position might be filled before the deadline.
The terms of reference for this position are available for download. Junior Programme Assistant_ ToR.