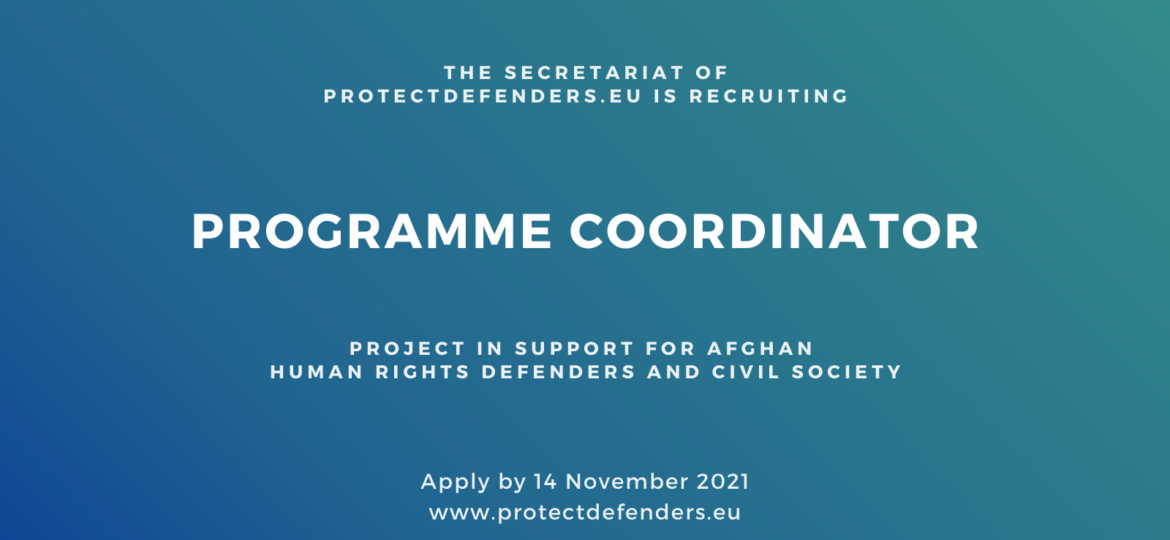 ProtectDefenders.eu is seeking to recruit a programme coordinator for the management of a rapid and efficient protection fund for Afghan human rights defenders and civil society. This is an exciting opportunity for someone with experience in Human Rights and Grants, with strong coordination and organisational skills, who will play a crucial role in the successful implementation of the project. It is a new program and role in the organisation and the role may develop and change as it is rolled out. The terms of reference for this position are available for download here..
The programme coordinator will supervise a grants officer and will work in close cooperation with the Head of Secretariat, as well as the relevant ProtectDefenders.eu partners.
Tasks & General Responsibilities of the Programme Coordinator
1. Management and coordination of programme
• Liaising with partner organisations for the set-up of coordination and follow-up procedures for the implementation of the project;
• Supervising the recording and tracking of applications and submissions;
• Ensuring that the robust administrative procedures are adhered to.
• Management of person dedicated to supporting the single-entry points for the grant-making programme for Afghan human rights defenders and human rights organisations.
2. Analysis & Decision-making
• Ensuring sound judgement and professional analysis to applications;
• Supervising the assessment and verification of incoming applications against the eligibility and admissibility criteria;
• Analysing trends in requests/referrals within socio-political contexts;
3. Collaboration and coordination
• Being the focal point for all communications with partner organisations, Board, and external stakeholders;
• Collaborating with partners throughout the process to ensure timely delivery of support;
• Working collaboratively and flexibly with all staff and external partners using strong problem-solving, and coordination skills.
• Coordinating advocacy actions on Afghan HRDs protection, notably towards European Union institutions, in close cooperation with ProtectDefenders.eu partner organisations.
• Assisting with the effective monitoring, evaluation, and sharing of lessons learned from advocacy activities on Afghan HRDs protection.
4. Measuring Impact
• Producing reports and analysis related to the programme;
• Providing information on trends, statistics and achieved results for internal and external reports;
• Following up on the grants awarded, monitoring the status of progress of grants and liaising with stakeholders to receive intermediate and final narrative and financial reports;
• Maintaining up-to-date information within related folders and databases.
• Reporting issues faced in the grant allocation system and proactively suggesting solutions;
• Being responsible for the reporting related to grant allocation within the project.
EXPERIENCE REQUIRED
This is a senior position requiring at least six years of relevant experience, including:
• Relevant work experience in the area of human rights, social justice, or civil society sector. Previous HRDs' work is an asset.
• Experience in managing or coordinating grant-making programs.
• Strong practical knowledge and understanding of the needs of human rights defenders at risk as well as EU institutions and mechanisms for the protection of human rights.
• Strong knowledge and understanding of the political, social, and civil society context in Afghanistan.
• Relevant experience in the field is an asset.
• Experience of working in the environment of a multicultural team and to engage with partners in different countries and working in difficult security environments.
PERSONAL SKILLS
• Excellent organisational and project management skills;
• Excellent political analysis and good judgment;
• Excellent reasoning ability;
• Excellent coordination skills;
• Excellent oral and written communication skills in English.
• Working knowledge of Pashto / Dari is a strong asset.
• Excellent relationship-building skills.
STARTING DATE & CONDITIONS
• Preferable starting date: ASAP
• Duration and conditions: the candidate will be offered an 18-month contract.
• The Programme Coordinator will be based at the ProtectDefenders.eu secretariat in Brussels. A valid work permit is an asset.
• ProtectDefenders.eu offers a competitive salary package for Brussels based on experience with a starting range for this post at 3,000 euros per month
• ProtectDefenders.eu also provides work insurance, meal vouchers, and monthly local transportation.
• Due to the COVID 19 pandemic, please be aware that the ProtectDefenders.eu staff work from home until further notice.
HOW TO APPLY?
Please send your CV and cover letter (please include information about your availability) before 14 November 2021 by email at recruit@protectdefenders.eu with the subject: 'Programme Coordinator Afghanistan – Your surname'.
Please note that only short-listed candidates will be contacted.
Interviews will be held via Skype.
Early applications are encouraged, as the position might be filled before the deadline!