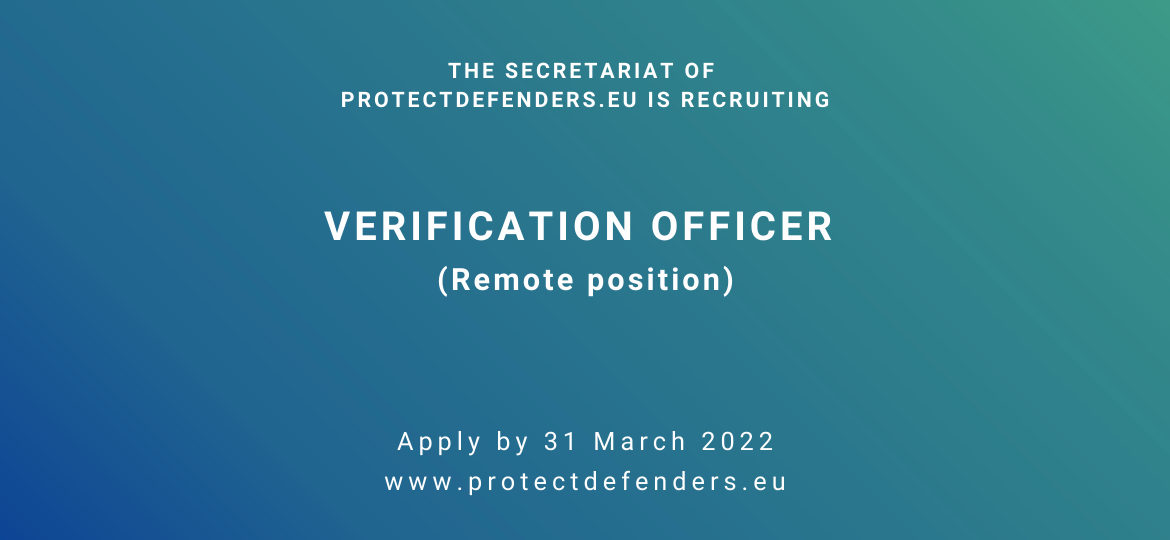 The Secretariat of ProtectDefenders.eu – The EU Human Rights Defenders mechanism – is looking for a Verification Officer for its current projects with the Canadian Government and the EU delegation to support Afghan Human Rights Defenders.
This role will have a support responsibility to deliver on the PD.eu partnership with the Government of Canada on their Refugee Stream for Human Rights Defenders, as well as a support responsibility to enable screening and processing of emergency and institutional grant requests under the EU delegation project.
The purpose of the Canadian Government's Refugee Stream for Human Rights Defenders is to enable a limited number of HRDs who have had to leave their country due to risks they were facing because of their human rights work and who don't have access to a durable solution in the host country where they are now living, to have the opportunity to resettle permanently in Canada. Under the Grants component of our project with the EU delegation, ProtectDefenders.eu receives and processes requests from HRDs on emergency grants and institutional grants to facilitate their protection and immediate needs.
The role will support the Canada Program Coordinator, the team and the Secretariat in verification and vetting of the HRD applicants who wish to be referred to the Canadian Government's resettlement scheme, in full accordance with the values and principles of the ProtectDefenders.eu. The role will also support the Afghanistan Program Coordinator in translating and verifying the applications as well as the supporting documents of grant requests. The terms of reference are available for download here.
It is a new program and role in the organization and as such, the role may develop and change as it is rolled out, based on programmatic needs.
TASKS & GENERAL RESPONSIBILITIES:
The key accountabilities and associated duties include:
1. Verification of HRDs
• Support in establishment/review of a verification mechanism for the PD.eu;
• Conduct verification of HRD status and background, main claims through the established verification mechanism, closely following protocols;
• Maintain smooth and effective communication between partners where required for verification or update of cases;
• Initiate and follow up communication and correspondence with HRDs, in the program or otherwise, for verification and update purposes;
• Maintain full objectivity, professionalism and accuracy in fact-finding about and recommending on the cases;
• Compile and organize all supporting documents relevant to the HRDs' claims to be utilized in further stages of their applications.
2. Analysis & Decision-making
• Assess and verify incoming cases against the Human Rights Defender definition and criteria;
• Assess and verify incoming applications and claims against the existing information on the Country of Origin;
• Analyze trends in the applications with regards to their credibility and protection risks.
3. Measuring Impact
• Providing statistics and required data related to the cases at hand.
4. Administrative and translations tasks
• Verifying and translating supporting documents of the HRDs received under the Canada Stream project
• Verifying and translating the applications and supporting documents of HRDs received under the EU-funded emergency grants program
EXPERIENCE REQUIRED
• Experience of working minimum 2 years in the area of human rights;
• Experience of working with UNHCR, NGOs or on refugee affairs desirable;
• Experience of working with people from different cultural backgrounds;
PERSONAL SKILLS
• Strong organizational and task management skills;
• Strong political analysis and good judgment;
• Strong reasoning and collaboration capacity and skills;
• Strong negotiation and diplomacy skills;
• Fluency (written & oral) in English, Dari and Pashto
• Familiarity with photo editing software and skills desired but not essential
STARTING DATE & CONDITIONS
• Preferable starting date: ASAP
• The position is meant to work remotely and is open to all eligible applicants from all locations.
• Duration and conditions: the candidate will be offered a 6 months renewable consultancy contract.
• Remuneration will be negotiated and agreed upon with the successful candidate, on a competitive scale in the field.
• The selected candidate should be able to legally declare and pay all taxes on their income from this position, within their country of legal residence.
• Due to the COVID 19 pandemic, please be aware that the ProtectDefenders.eu staff work from home until further notice.
HOW TO APPLY?
Please send your CV and cover letter (please include information about your availability) before 31-03-2022 by email at recruit@protectdefenders.eu with the subject:
'Canada VO – Your surname'.
Please note that only short-listed candidates will be contacted.
Interviews will be held via Skype.
If you're interested in this position, early applications are encouraged, as the position might be filled before the deadline due to its urgency.