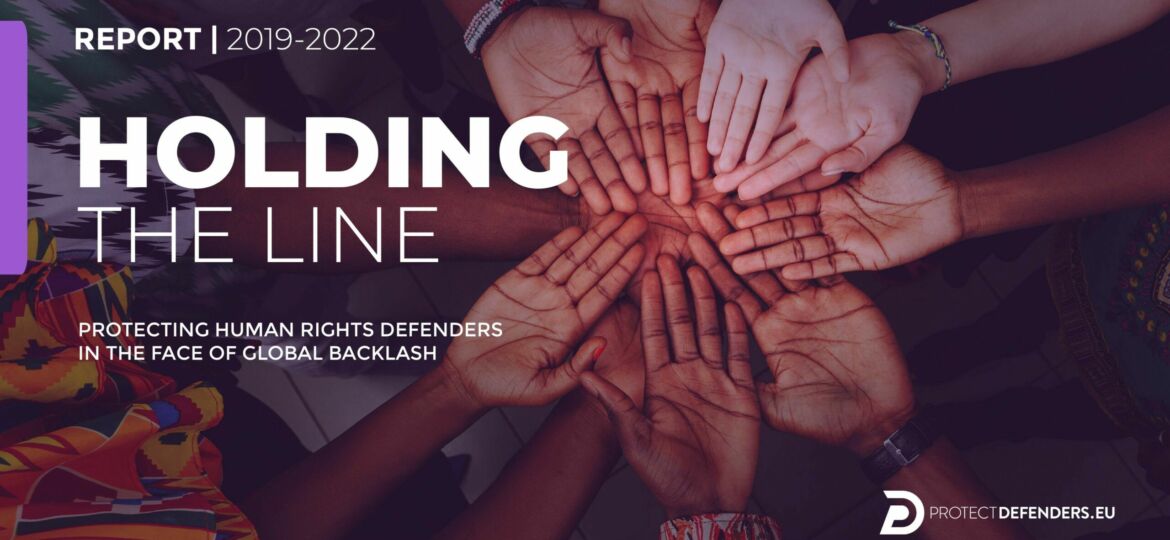 [Brussels, 10 July 2023] – ProtectDefenders.eu, the European Union's Human Rights Defenders Mechanism, presents its comprehensive report titled "HOLDING THE LINE – PROTECTING HUMAN RIGHTS DEFENDERS IN THE FACE OF GLOBAL BACKLASH," covering the period 2019-2022. This groundbreaking report celebrates the active role and ownership of human rights defenders (HRDs) in shaping the ProtectDefenders.eu program and showcases their remarkable achievements in the face of unprecedented challenges.
With passionate forewords from renowned woman human rights defender Cristina Palabay from the Philippines, this report brings to light the obstacles faced by HRDs globally and highlights the empowering strides made in supporting their vital work. It prominently features the contributions of HRDs themselves in driving the priorities of ProtectDefenders.eu, particularly in reaching out to the most-at-risk defenders and advancing gender-sensitive protection for women HRDs. The report showcases the collective efforts of HRDs and ProtectDefenders.eu, solidifying the program's position as a global leader in protecting and supporting HRDs.
During the period from 2019 to 2022, ProtectDefenders.eu achieved remarkable results. Over 23,000 HRDs across all regions benefited from critical protection measures, unwavering support, and empowering tools. The resilience and adaptability of HRDs were demonstrated in delivering effective protection and support, even in the most challenging contexts.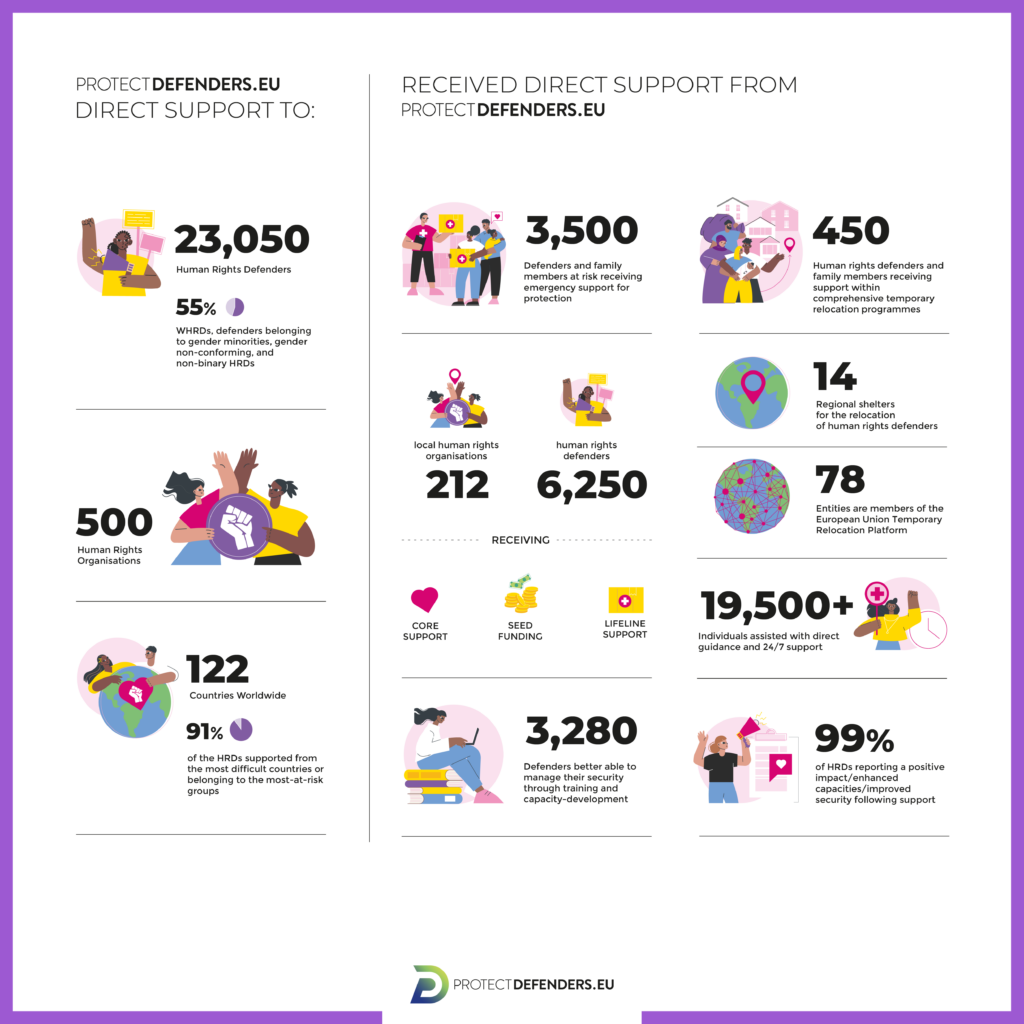 The report highlights the pivotal role of ProtectDefenders.eu as a lifeline for HRDs facing imminent danger, providing swift and decisive emergency protection. It also emphasizes the investments made in strengthening the resilience and capabilities of human rights organizations and local communities operating in hostile environments. Through funding core operations, providing institutional support, and offering vital resources, ProtectDefenders.eu has empowered defenders to continue their invaluable work.
In coordinating the international temporary relocation system for HRDs, ProtectDefenders.eu played a vital role in ensuring the safety of HRDs and their families. The launch of the Shelter Initiatives program and the coordination of the European Union Temporary Relocation Platform (EUTRP), led by ProtectDefenders.eu, further enhanced regional relocation structures.
ProtectDefenders.eu has stood as a steadfast ally for at-risk HRDs, offering comprehensive support such as 24/7 assistance, training, capacity building, outreach, field accompaniment, and visibility. Through reactive and preventative advocacy efforts, urgent interventions, impactful reports, and proactive initiatives, HRDs and ProtectDefenders.eu have achieved countless victories for HRDs and NGOs globally.
The report emphasizes ProtectDefenders.eu's commitment to gender-sensitive assistance, with specific support directed towards women HRDs, defenders from gender minorities, gender non-conforming individuals, and non-binary HRDs. Recognizing the challenges faced by these vulnerable groups, ProtectDefenders.eu has prioritized their support.
Recognized by external observers and direct beneficiaries alike, ProtectDefenders.eu has been hailed for its vital role in the global human rights landscape. However, the period from 2019 to 2022 presented ProtectDefenders.eu with unprecedented challenges, with requests for protection support from defenders and communities skyrocketing by 450%.
As a result, the EU HRD mechanism's mandate increasingly overlapped with humanitarian needs, forging powerful alliances while straining its capacity. The demands and complexity of support required by defenders and their families surpassed the resources and mandate of ProtectDefenders.eu, underscoring the urgent need for increased and long-term support for HRDs, their communities, and their families.
Despite these challenges, ProtectDefenders.eu has established itself as a key player in coordinating resources and expertise for defender protection. Notably, in partnership with the Canadian government, ProtectDefenders.eu launched a HRD refugee resettlement stream. Furthermore, the ProtectDefenders.eu Consortium has spearheaded policy change campaigns, including the "Visa for Defenders" initiative launched in September 2022. This campaign advocates for an enabling framework that grants at-risk HRDs access to visas to the European Union. These remarkable initiatives demonstrate the potential for synergies and the added value of the EU Human Rights Defenders mechanism in supporting defenders and promoting human rights on a global scale.
The ProtectDefenders.eu Report, along with successful coalition-building efforts, solidifies the EU HRD mechanism as a global model for the active involvement of HRDs in the protection of their own rights. While ProtectDefenders.eu remains committed to upholding human rights worldwide, it is crucial to emphasize the need for increased and long-term support for HRDs, their communities, and their families. Strengthening available resources for actors supporting HRDs is of utmost importance.
Read the full ProtectDefenders.eu Report: HOLDING THE LINE – PROTECTING HUMAN RIGHTS DEFENDERS IN THE FACE OF GLOBAL BACKLASH on our website.
Join us in our efforts to safeguard human rights and establish a safer world for HRDs.
For media inquiries, please contact:
Javier Roura Blanco
ProtectDefenders.eu's Secretariat
jroura@protectdefenders.eu