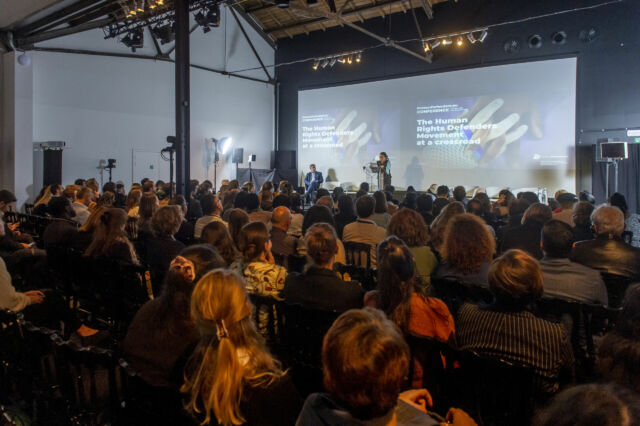 On 29 September, ProtectDefenders.eu resumed the organization of its annual meetings in person, in Brussels. This year, more than thirty human rights defenders from all over the world took the floor in a moment of a global backlash against the grass-roots movement for human rights and democracy and will call to renew the EU pledge to human rights defenders. The closing conference, "The Human Rights Defenders' Movement at a Crossroad", featured the testimonies and experiences of a great diversity of grassroots activists coming from all backgrounds, including Yvette Mushigo (Synergie des Femmes pour la Paix et la Réconciliation des Peuples des Grands Lacs d'Afrique, DRC); Ukei Muratalieva (Nazik Kyz, Kyrgyzstan); Rocío Walkiria Santos Reyes (CEHPRODEC, Honduras); Yasmine Shurbaji (Families for Freedom, Syria); and Monika Maritjie Kailey (Komunitas Masyarakat Adat Marafenfen, Aru Islands, Indonesia).
You can watch again the full conference here
The conference included the participation as panelists of: the United Nations Rapporteur on the situation of Human Rights Defenders, Mary Lawlor; the French Ambassador at Large for Human Rights, Delphine Borione; the Inter-American Commission on Human Rights Rapporteur on the Rights of Human Rights Defenders and Justice Operators, Commissioner Joel Hernández García, and the Human Development, Migration, Governance, and Peace Unit Acting Director at the European Commission, Chiara Adamo.
More than two hundred and fifty participants joined this unique occasion, in which an unequivocal call was made to the EU to renew its commitment to defenders at risk.