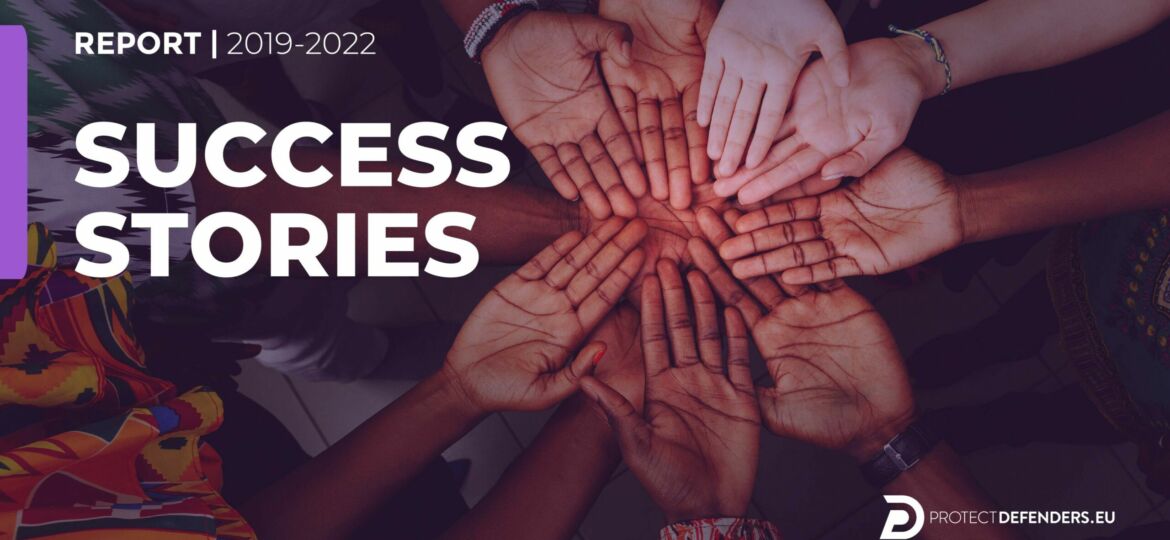 In 2022, the OMCT stepped up its advocacy jointly with eleven other national and international rights groups to secure the release of Kenia Hernández, an indigenous rights defender, lawyer and feminist who has been detained since October 2020.
"Knowing that there are compañeras like you who have not left me alone, knowing that there are compañeras and organisations that are looking out for me, for my life, for my process, for my struggle, for my integrity, gives me a lot of strength. […]".
Kenia Hernández, a message from prison following the visit
Kenia Hernández is a lawyer, feminist and Amuzga indigenous defender and a member of the Movement for the Freedom of Political Prisoners of the state of Guerrero. She accompanies survivors of male violence and relatives of victims of feminicide, defends the rights of the unjustly imprisoned and of people affected by the activities of multinational extraction companies on Mexican territory.
When human rights defender Arnulfo Cerón was disappeared in October 2019 in Guerrero, Kenia Hernández led many protests calling for an independent investigation into his disappearance, and for the authorities to guarantee his life and safe return. Along with other human rights defenders, she carried out peaceful protests in several tollbooths across Mexico, opening the fences for cars to circulate with no fee. While Cerón's corpse was found on November 20, 2019, Kenia Hernández was criminalised and arbitrarily detained in retaliation for her participation in the protests.
Kenia Hernández faces nine criminal cases and has been denied access to her family and lawyers since her arrest. To date, she has been sentenced in two of the cases, to 11 years and three months, and nine years and two months in prison, respectively. Her trial war marred with irregularities, including the denial of her right to be physically present at her trial, to effective participation in the proceedings, and to confidential communication with counsel. She has been held in solitary confinement in the maximum security prison in the state of Morelos since October 2020.
In May 2022, the OMCT coordinated two joint letters to the Mexican authorities requesting, on the one hand, the immediate release of Kenia Hernández and the end of all acts of criminalisation against her, and on the other hand, the permission to visit her in Maximum Security Prison CEFERESO No.16, in Morelos State, where she remains detained since October 2020, with no access to her family or a lawyer. In September 2022, the OMCT published a joint statement denouncing the inhuman detention conditions of Kenia Hernández and in October it further denounced the deteriorating health conditions of Kenia Hernandez and other co-detainees. Tweets were also published on the Observatory for the Protection of Human Rights Defenders handle in May, September and October 2022, which had a total of 4,378 views and 225 engagements.
On 30 May 2022, the UN Special Rapporteur on Human Rights Defenders sent a private communication to Mexico on the case of Kenia Hernández, which was made public in August 2022.
After continued requests and advocacy, on October 17, 2022, the OMCT and eleven other national and international human rights groups were granted the authorisation to visit Kenia Hernández in prison. The mission expressed solidarity with Ms. Hernández, her lawyers, and documented human rights violations perpetrated against her while in prison, using regional and international instruments as monitoring tools, including the Mandela and Bangkok Rules. These findings were collected in a report published in November 2022.
Subsequently, the OMCT together with partners of the EU-LAT Network prepared a briefing note for members of the European Parliament ahead of the 28th meeting of the EU-Mexico Joint Parliamentary Committee in Mexico. The document included Kenia Hernández's case, with extensive information about her detention conditions.
The OMCT has worked in close coordination with an informal coalition of national and international human rights organisations (Centro de Derechos Humanos Zeferino Ladrillero, Centro de Derechos Humanos Fray Francisco de Vitoria, Red Nacional de Organismos Civiles de Derechos Humanos "Todos los Derechos para Todas y Todos", Grupo de Acción por los Derechos Humanos y la Justicia Social, Centro de Estudios y Acción por la Justicia Social, Red Nacional de Defensoras de Derechos Humanos en México, Iniciativa Mesoamericana de Mujeres Defensoras de Derechos Humanos (IM-Defensoras), Coalition for Human Rights in Development – CIVICUS Global Alliance, Front Line Defenders, FIDH) to raise awareness on the situation of Kenia Hernandez, to improve her detention conditions, and to ultimately to secure her release.
Working in both formal and informal coalitions of rights organisations brings an added value to the work we do, as it ensures complementarity of actions, expertise sharing and an increased mobilisation capacity at local, national, regional and international levels.
---
This article is part of a series of articles published in conjunction with the report, providing complementary information. You can read the full report "HOLDING THE LINE – PROTECTING HUMAN RIGHTS DEFENDERS IN THE FACE OF GLOBAL BACKLASH" here.