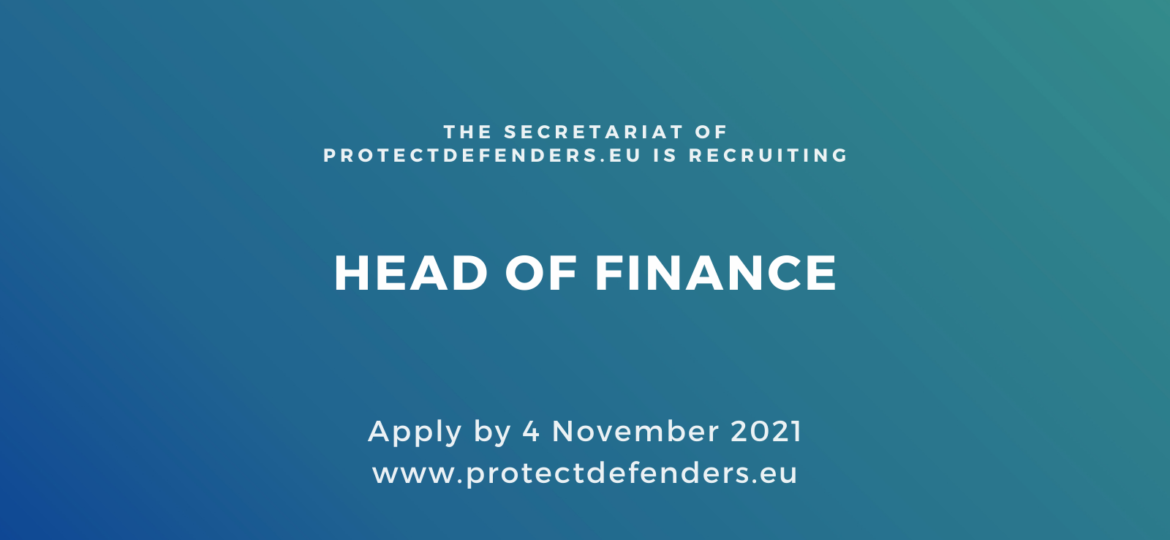 The Secretariat of ProtectDefenders.eu is looking for a Head of Finance (based in Brussels). The terms of reference of this position are available for download.
PURPOSE OF THE POSITION
Under the supervision of the Head of Secretariat, the Head of Finance maintains an effective and accurate financial reporting system for all the Secretariat activities. This includes ensuring that all expenditures are in conformity with donor guidelines, that records of receipts and other relevant documentation of expenditure are maintained, and that the financial reporting to the EU and the relevant audit reports are delivered on time and to the highest professional standards. This includes the management of the finance and administrative team of the Secretariat.
JOB DESCRIPTION
The responsibilities of the Head of Finance include:
Financial Control:
• Coordinating the financial aspects of the multi-year, multi-partner program in line with EU requirements and the grant contract;
• Preparing the disbursement of funds in accordance with the agreed schedule;
• Ensuring that financial management systems and records are effective and robust;
• Consolidating cash flows, reporting templates, financial plans and amendments throughout the project life;
• Ensuring the existence of an adequate filing system for all financial and accounting deliverables to ensure ease of access during internal/external audit through supervision of the responsible officer;
• Monitoring budget burn rates and cash-flow projections;
• Recommending appropriate action on any significant variances ( +/-10%) and preparing budget amendments where necessary in coordination with the Secretariat and Consortium partners;
• Preparing the financial accounts for external audit and coordinating audit activities;
• Following up on the timely implementation of recommendations to remedy significant variances;
• Preparing and managing the yearly audit of the Secretariat in collaboration with the Head of Secretariat
Financial Reporting:
• Overseeing, planning and preparation of reporting to EU, adherence with Consortium requirements and timelines, and timely submission of reports by the 12 member organisations;
• Producing integrated financial reports on a timely basis and in line with international accounting standards and EU regulations;
• Finalizing yearly accounts and providing any ad hoc financial reports that may be required;
• Following up on the expenditures of the Secretariat's budget;
• Preparing and coordinating each expenditure verification and possible external audit;
• Communicating on a regular basis with the Consortium partners' finance teams, including support for their preparation of financial reports through the organization of meetings and ad hoc support as requested and needed.
Partner Capacity Building and general administrative support:
• Being available to partners to clarify EU financial rules and to check compliance of reporting;
• Putting forward recommendations when appropriate;
• If needed, undertaking support visit to consortium members;
• Participating in consortium meetings to foster compliance and to address any financial issues;
• Ensuring that internal audit recommendations for grant-funded projects are adhered to;
• Sharing lessons learned with consortium members throughout the project's implementation;
• Supporting the logistical and administrative organisation of finance meetings when necessary;
Management of the Secretariat Finance and Administration team:
This role involves the direct management of a finance team. This involves:
• Supporting the implementation of the team's daily work as requested;
• Putting into place systems to support the financial management of the growing Secretariat programmes;
• Being responsible for the supervision of the team, including regular appraisals and support in professional development.
• Providing support to other programmes financial reports in line with requests and needs from the donors and the team.
EXPERIENCE REQUIRED
• Masters Degree in Finance, Accounting, or related field. Professional accounting qualifications plus.
• Minimum of seven years of experience in a finance/accounting role preferably with an international NGO.
• Demonstrated experience in developing and managing large budgets, with a preference for previous experience working in a consortium or a network.
• Considerable experience of successfully managing the implementation of complex projects.
• Experience in working on projects funded by major international donors, with a preference for previous experience with the EU.
• Strong coordination/negotiation skills specifically with the ability to effectively coordinate among partner organisations.
• Sharing the belief in the importance of the security and protection of human rights defenders around the world.
PERSONAL SKILLS
• Excellent oral and written English language skills.
• Strong financial management skills.
• Ability to multi-task and work towards tight reporting deadlines.
• Strong interpersonal, communication and organisational skills.
• IT minded and analytical.
• You are assertive, hands-on and pragmatic.
Your mindset
• A genuine interest in the field of human rights.
• Ability to work collaboratively in a team-oriented atmosphere as well as independently.
• You are motivated, proactive, hands-on attitude, autonomous, discreet with an analytical approach.
STARTING DATE & CONDITIONS
• Preferable starting date: ASAP.
• Duration and conditions: the candidate will be offered a two-year renewable contract.
• Remuneration starting at 3500 EUR gross/month depending on experience.
• ProtectDefenders.eu also provides work insurance, meal vouchers, contribution to pension and monthly local transportation.
• Due to the COVID 19 pandemic, please be aware that the ProtectDefenders.eu staff work partially from home.
• The candidate needs to be willing to be based in Belgium and have a valid work permit.
HOW TO APPLY?
Please send your CV and cover letter (please include information about your availability) before November 4 2021 by email at recruit@protectdefenders.eu with the subject: 'Head of Finance – Your surname'.
Please note that only short-listed candidates will be contacted. Early applications are encouraged, as the position might be filled before the deadline!