The ever-growing crackdown on civil society, the political repression and the judicial and administrative persecution against defenders and organizations in Turkey get worse every day. Numerous alerts have been reported this month, which add to the continuous crackdown on civil society in the country since the failed coup in July 2016. Moreover, the March 2018 Digest of alerts features the situation in Algeria, as ProtectDefenders.eu's partners have received with great concern recent information on the precarious environment for the exercise of the defence of human rights in the country. Finally, the continuing pattern of violence, harassment and intimidation of human rights defenders in DRC, where recent killings have been reported, is also in the spotlight.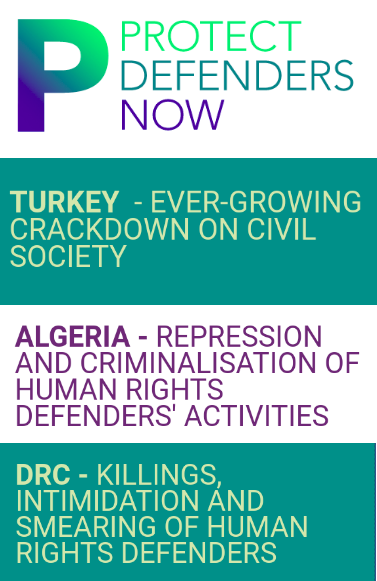 Moreover, only during February 2018, the ProtectDefenders.eu Index of attacks and threats against Human Rights Defenders has already reported 52 new violations against HRDs.
Click to read the ProtectDefenders.eu digest, and share it widely.