ProtectDefenders.eu is concerned about the acts of harassment against journalists Mr. Ahmed Ettanj and Ms. Nazha El Khalidi, president and member of the board of the Sahrawi collective Équipe Media, which only seem to aim to sanction their legitimate activities in the defense of human rights as well as their rights to freedom of movement and expression.
According to the information received, on 21 and 22 November 2020, nearly 200 representatives of the Moroccan police and paramilitary forces surrounded the houses of Mr. Ahmed Ettanj and Mrs. Nazha El Khalidi as well as the adjacent streets, in the district of Lahohoum, in the center of Laâyoune, preventing anyone from entering or leaving it, while the two journalists were preparing to celebrate their wedding. Law enforcement officials justified their massive intervention in the name of measures taken to prevent the spread of Covid-19, while the ceremony respected the required social distances. Law enforcement officials finally left the scene at dawn on 23 November.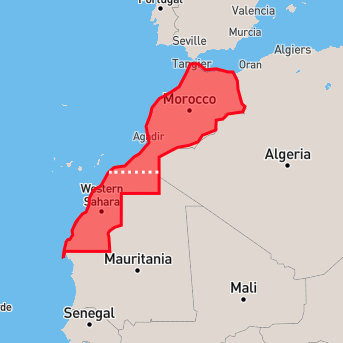 Moreover, the whereabouts of human rights defender Yahya Mohamed el Hafed Aaza remain unknown. Yahya Mohamed el Hafed Aaza is a Sahrawi human rights defender and co-founder of the Saharawi Collective of Human Rights Defenders (CODESA). He also served as president for the collective branch in Tan Tan province, where his work focused on the political rights of Sahrawi prisoners. On 13 October 2020, he was transferred from his cell in Bouzairkarn prison to an unknown location and has not been heard from him since. Yahya Mohamed el Hafed Aaza had reported that he was detained in a cell with a prisoner who tested positive of COVID-19. Neither his family nor lawyer have been able to locate or contact the imprisoned human rights defender and are deeply concerned regarding his well-being and health.
According to RSF World Press Freedom Index, in Morocco – ranked 133, media continue to be subjected to judicial harassment. In addition to the trials of a number of media figures that have dragged on for several years, several new prosecutions have been initiated and heavy sentences have been passed. Many journalists and citizen-journalists continue to be imprisoned. The elimination of the ministry of communication and the creation of a press council have not helped to make the environment for media and journalists any more peaceful.