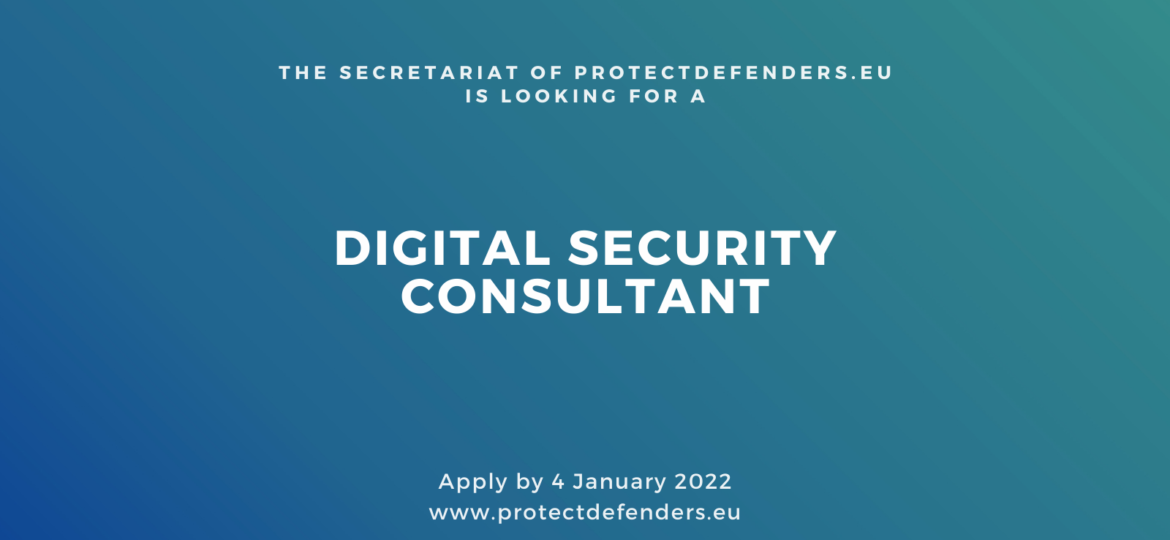 As part of its ongoing digital security and IT infrastructure improvement efforts, the Secretariat of ProtectDefenders.eu is looking for a project-based digital security adviser and trainer. The consultant will support the Secretariat in developing a Digital Security action plan and in implementing the agreed actions.
The aim of the consultancy is to assist the Secretariat in the implementation of adequate digital security measures that work efficiently and are sensitive to the requests and needs of human rights defenders, in accordance with organizational policy. The terms of reference for this consultancy position are available here.
DELIVERABLES
Assessment of the current digital security situation, spanning the digital infrastructure of the Secretariat and in its relation with partner organizations and grantees. This includes around 15 staff computers running mostly open-source software and externally-hosted services, including a website and cloud-based services.
Development of a digital security action plan based on the assessment. Expected components to be included in the action plan (non-exhaustive list):

Assessment of the digital security of the organization and the current level of IT support.
Recommendations to correct, improve and maintain the digital security of the organization.
Ensuring that organization devices are secured and establishment of a protocol for maintenance.
Development of a digital security policy.
Development of key procedures and protocols to guarantee digital security in the implementation of day-to-day activities.
Contribution to documents and manuals related to digital security.
Facilitation of workshops to the staff.
Implementation of the recommendations and key activities included in the action plan that can be implemented in the short-term and actionable plans for the longer-term recommendations.
EXPERIENCE REQUIRED AND PERSONAL SKILLS
Demonstrable knowledge of a human rights approach to digital security.
Understanding of a holistic security perspective, including demonstrable knowledge of digital security principles and dilemmas.
Strong skills in facilitation and communication, including with those without an IT background.
Good computer science knowledge and extensive experience with the use and implementation of open-source software and tools.
Discretion and respect of confidentiality.
Quality-oriented.
Autonomous team player.
Excellent oral and written communication skills in English.
HOW TO APPLY?
Applications must include:
CV
Cover letter
Work-plan, including time-frame starting from January / February 2022 (up to three months, with the possibility of extension / 2nd phase for actions to be implemented in the middle-term)
Financial proposal
Please send the requested documentation in PDF by 4 January 2022 to recruit@protectdefenders.eu.