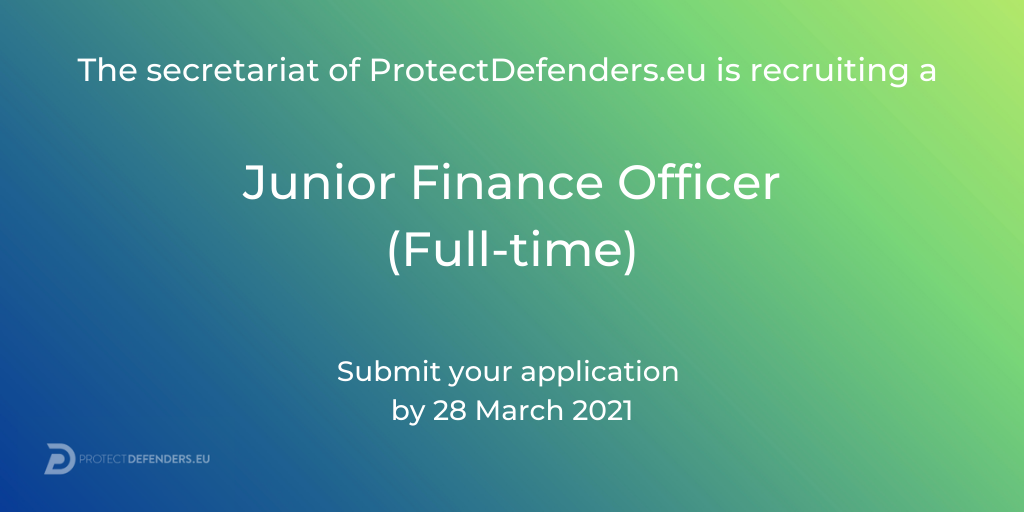 We are looking for a talented and motivated Junior Finance Officer to join the Finance and Administrative team of the Secretariat for ProtectDefenders.eu.
Under the supervision of the Head of Finance, the Junior Finance Officer supports the dynamic team of the Secretariat facilitating a smooth implementation of the projects and grant mechanism, contributing to an efficient working environment.
Click to download the Terms of Reference of this position.
RESPONSIBILITIES
• Reporting to the Head of Finance, the Junior Finance Officer is tasked with the preparation, processing and follow-up of supplier and grant payments.
• Liaising with and providing the external bookkeeper with relevant supporting documents and information on a weekly basis.
• Further, the Junior Finance Officer is responsible for ensuring that all transactions are recorded and filed in accordance with recognized accounting principles and supported by relevant and verifiable source documents.
• Assist with the monthly reconciliations of the bank and the accounting system.
• Support the Head of Finance with internal and external audit preparation, to ensure the timely submission of project financial reports and supporting documentation to the EU.
• Provide support to the financial management of the main projects, and the financial functioning of the Secretariat.
• Review budgets and financial reports for third-party grants.
• Assist with other financial tasks relating to the sound financial management of the Secretariat.
• Assist with project start-up and close-out activities.
YOUR PROFILE
Your skills:
• Analytical and IT minded.
• Good communication skills.
• Sense of organization and planning:
◦ Ability to prioritize, follow-through, meet deadlines and deliver results.
◦ Ability to multi-task and coordinate several projects simultaneously.
◦ Attention to detail.
• You are assertive, hands-on, and pragmatic.
Your mindset:
• A genuine interest in the field of human rights.
• You are motivated, proactive, hands-on attitude, autonomous, discreet with an analytical approach.
• Ability to work collaboratively in a team-oriented atmosphere as well as independently.
Requirements:
• Bachelor's degree Accounting / Finance / Business Administration or equivalent education
• Very good level in English (oral and written); and a good command of French
• Proficient in the use of MS Office applications, particularly a good level of Excel is required.
In addition:
• Knowledge of European funding rules and programmes is an advantage
• Experience within a not-for-profit organization and/or with grant management is a plus.
WHAT WE OFFER
• A one-year full-time contract under the Belgian legislation with the possibility of extension, and a salary remuneration starting at 2,200 EUR Gross, commensurate with the candidate's profile
• Meal vouchers, eco-cheques, group insurance, the refund of public transport
• Dynamic international, friendly, and talented team, fostering a collaborative and supportive culture.
• Committed management: regular briefings, feedback and advice.
• Significant autonomy in your daily work.
HOW TO APPLY?
The Junior Finance Officer will be based in ProtectDefenders.eu secretariat in Brussels and would have the necessary permit to work in the EU.
ProtectDefenders.eu Secretariat values diversity and is an equal opportunity employer.
Applications comprising a CV with one reference and a cover letter should be sent by email to recruit@ProtectDefenders.eu by March 28, 2021. The position might be filled before the deadline, early applications are encouraged.
The successful candidate will be expected to start as soon as possible.
CV and personal data of non-selected candidates are not shared with anyone outside ProtectDefenders.eu.
INFORMATION ABOUT PROTECTDEFENDERS.EU
ProtectDefenders.eu is the EU Human Rights Defenders Mechanism, established to protect defenders at high risk and facing the most difficult situations worldwide. For more information, please visit our website.