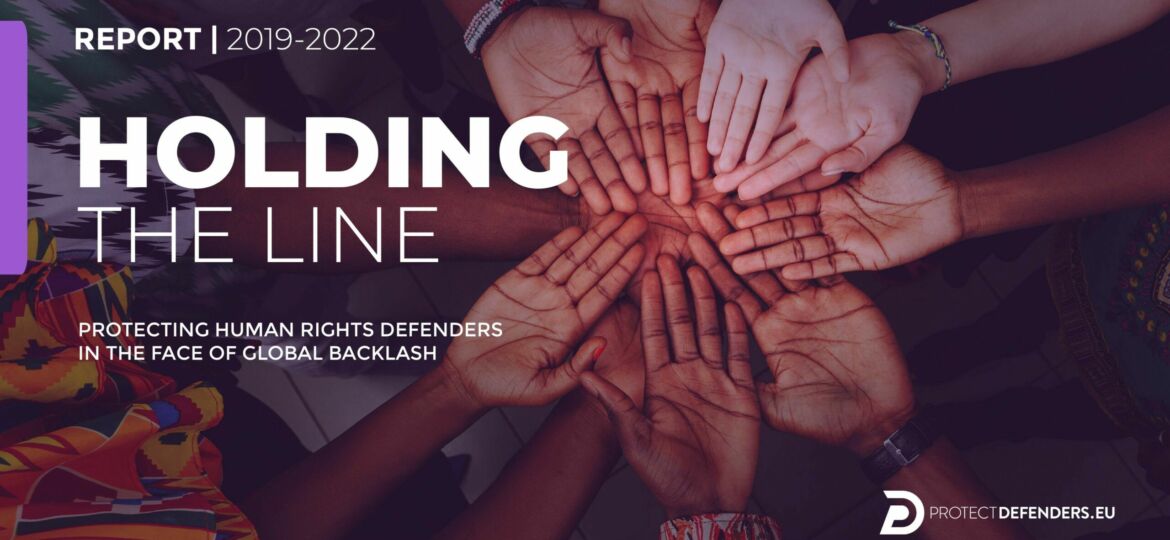 The challenges faced by HRDs globally can be exacerbated by regional and national trends that impact the operating environment for HRDs, affecting the implementation of action plans and strategies aimed at protecting their rights. From Latin America to Africa, Asia to Europe, these trends highlight the complex and evolving landscape in which HRDs operate, and the ongoing efforts needed to support and protect their vital work.
This article is part of a series of articles published in conjunction with the report, providing complementary information. You can read the full report "HOLDING THE LINE – PROTECTING HUMAN RIGHTS DEFENDERS IN THE FACE OF GLOBAL BACKLASH" here.
Asia & the Pacific:
The civil and political landscape in many Asian countries remains a cause for concern, as there is severe pushback on human rights and fundamental freedoms and threats to civil society space. Despite holding periodic elections, most countries in Asia routinely deny compliance with the rule of law and resist promoting respect for fundamental human rights. The rise of populist parties propagating ultra-nationalist and ethnoreligious agendas through democratic elections has further created challenges for civil society organizations and human rights defenders. The authoritarian pushback against democracies remains the single most significant challenge to democracy and human rights in Asia, with evidence of new repressive laws and policies and the use of existing ones to justify crackdowns on civil society.
Read more here
Middle East and North Africa:
The MENA region has witnessed governments persistently suppressing peaceful protests and silencing dissent through intensified repression, rather than addressing the fundamental reasons behind the protests and building new social contracts. This has resulted in growing authoritarianism, repression of dissent, and human rights abuses, despite the initial hopes of the Arab Spring. Human rights defenders in the region face increasing threats to their legitimacy and agency, with public health measures having been used as a pretext to crackdown on pro-democracy demonstrators, activists and journalists; as well as serious restrictions on access to resources and overall funding limitations, threatening the sustainability of the human rights organisations.
Read more here
Africa: 
Over the past three years, conflict and crises in Africa have had serious impacts on the populations, and specifically on human rights defenders. State and non-state actors are using a set of repressive laws to harass, intimidate and detain HRDs and journalists. Furthermore, the pro-democracy movements and activists in the region have been facing many risks and an important crackdown during pre and post-electoral periods.
However, it should be noted that in some countries, such as Niger or the Democratic Republic of Congo, there have been positive developments with institutional reforms, the creation of special protection mechanisms and discussions around laws on the protection of HRDs.
Read more here
Americas:
HRDs and human rights organisations in the Americas have faced a significant number of challenges. The region is home to the most dangerous country in the world for HRDs (Colombia) and violence against defenders has been increasing since the Pandemic. The deterioration of human rights situations in several countries in the region has been accompanied by additional challenges for human rights defenders to carry out their work, such as repeated bureaucratic obstacles, restrictions of funds and overall repression of civil society. Negative narratives against human rights defenders and organisations have also further developed in a region where violence against HRDs led to the death of hundreds of defenders in 2022 alone. Finally, it should be noted that environmental and land defenders have been facing strong repressions, harassment and attacks for their crucial work.
Read more here
Europe and Central Asia :
The situation for HRDs in Europe and Central Asia has been deteriorating over the past three years. The full-scale invasion of Ukraine by Russia and war in the country, but also the severe crackdown on civil society in Belarus, have led to massive human rights violations and a strong backlash against civil society, including harassment of human rights defenders, violence, risk of torture, disappearance;
In the rest of the region, civic unrest spread throughout the period 2019-2022 in the whole region, leading to the violent repression of human rights defenders and protesters with excessive and lethal force, criminalisation and internet shutdowns.
Read more here